The Pan-American Highway is the longest road in the world. Stretching from Alaska to Argentina, its construction was once the largest international development project undertaken by the United States. But more than a hundred years after the road was first proposed, one section remains unbuilt: 66 miles of remote forest known as the Darren Gap.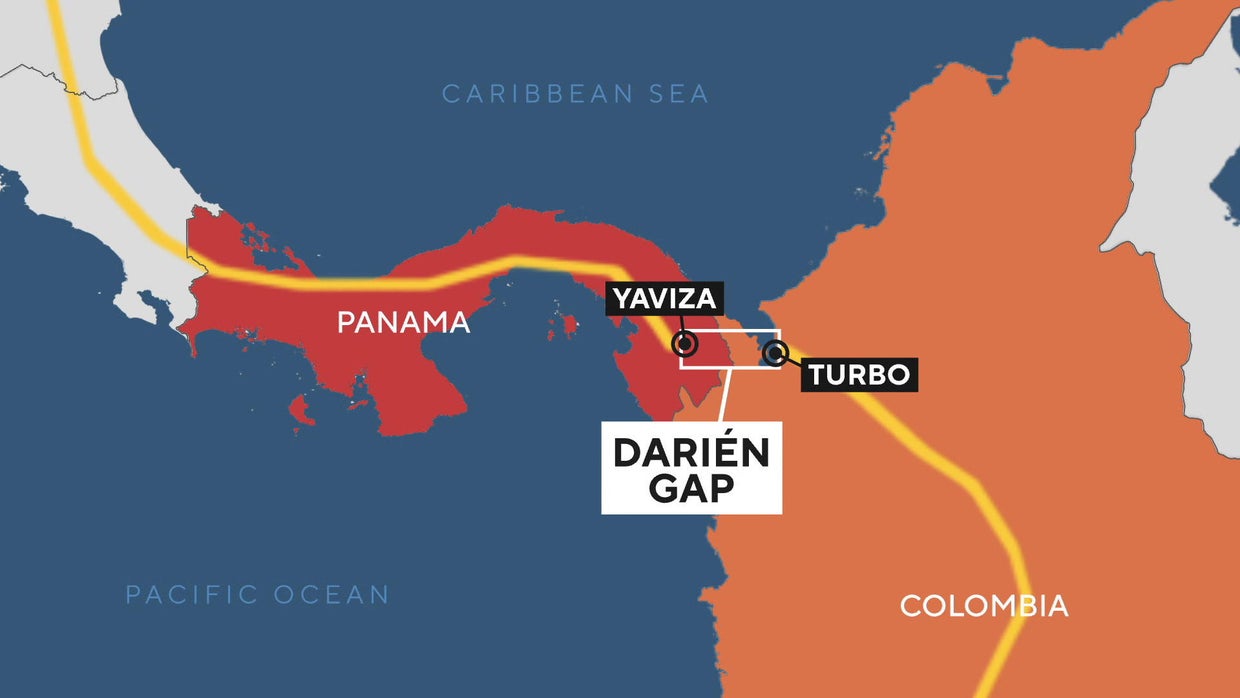 CBS News
"It's the only stretch of the Americas where engineers haven't been able to build the Pan-American Highway," said Julie Turkewitz, Andes bureau chief for The New York Times. "It essentially created a barrier between South America and Central America."
Last fall Turkewitz and photographer Federico Rios followed and photographed a group of migrants on a nine-day journey through the Darien Gap. Once a very treacherous road building has turned into a traffic jam. "Just a lot of people across the woods," she said. "It was like being in line at the Statue of Liberty."
Last year 250,000 people crossed the Darien Gap – twenty times more than just a few years ago.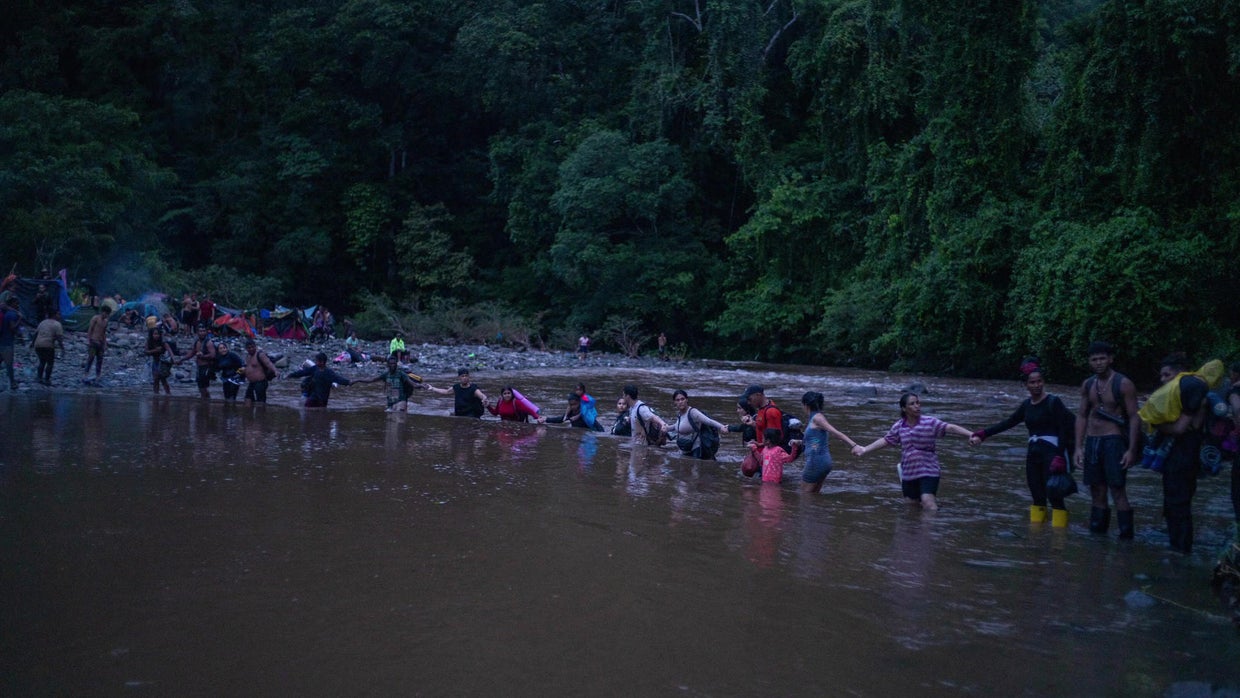 A group of migrants crossing a river in the Darien Gap, a 66-mile stretch of jungle between Colombia and Panama.
Photo by Federico Rios
"You have a sort of vibrant economy of smugglers advertising the Darien Gap on TikTok and Facebook, where a lot of migrants are talking," Turkewitz said.
Acevedo asked, "What does it look like? Do they advertise their services, or are they trying to tell people that this is a safe way to travel to the United States?"
"Both. They talk about how this track is possible. They will answer people's questions. They spread a lot of misinformation about what nationalities are allowed in."
And when they reach the jungle, most migrants are unprepared for what lies ahead. "It can be absolutely excruciating," says Turkewitz. "You don't know what's around the next bend. You don't know how deep the river is. You don't know how slippery the rock is. A lot of people who make this journey are not just physically prepared, but don't have the resources to buy boots or buy the right food or buy the right clothes. . And some of them are children. And so it's hard to describe the kind of vulnerability that people suffer from."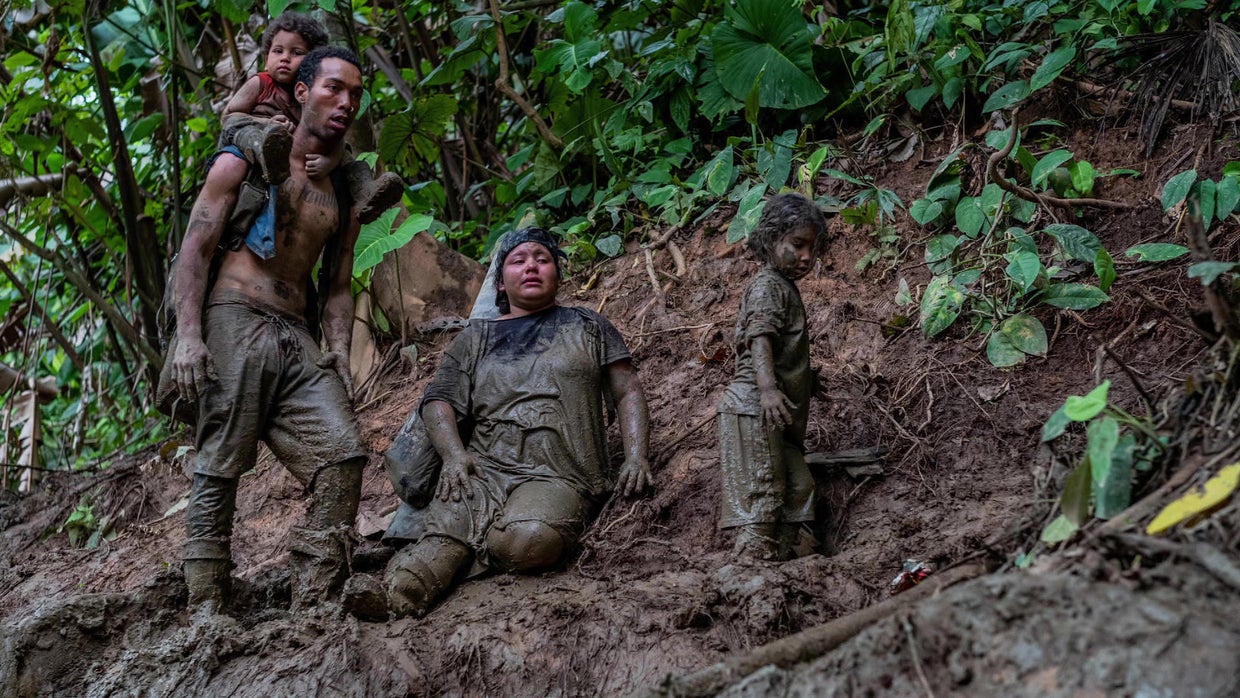 Eva Alexandra Albarran cries desperately with her husband Beromar Perez and her two children: Alan Perez, 2, and Beximar Albarran, 5, whose feet are sinking in the mud. Hungry and dehydrated, they walked through the mud for hours trying to cross the Darien Gap. They left everything behind to go to Panama, but the path was much more difficult than the TikTok videos suggested.
Photo by Federico Rios/Instagram
Alejandro Marrufo crossed the Darien last year. He said he saw families and children on the journey. "Yes, I've seen people die. Imagine you hurt yourself in the middle of the woods. How do you get out?" he asked.
Marrufo left Venezuela in 2018. He decided to move north after years of struggling in neighboring Colombia to earn enough money to return home to his children. He said, I have done this for my two daughters. "They're the reason I've lasted five years on this journey."
Runaway inflation, sometimes reaching 10 million percent, has caused food and medicine shortages in Venezuela. Since 2015, seven million people – a quarter of the country's population – have fled. Most settled in nearby countries, but several thousand made their way to the United States.
And the region's problems are not limited to Venezuela. Covid has devastated economies across Latin America and the Caribbean, while authoritarian governments and climate change are forcing millions to flee the country.
"Most people don't want to flee their homes and travel thousands of miles through seriously dangerous conditions to start over in a new country," said Tyler Mattias, a researcher at Human Rights Watch in Mexico. "People do it because they have to."
Mattias says the U.S. government needs to pay more attention to why people leave home in the first place.
"Do you think there's been too much focus on the U.S.-Mexico border?" Acevedo asked.
"Of course, I do," Mattias replied. "Policies toward Latin America have really ignored the serious and growing human rights crisis in many countries across the region, and have focused almost exclusively on trying to stop immigration to the north by any means possible. These policies, first of all, don't work. The number of people fleeing their countries Increasingly, because these crises are increasing. And there are dire consequences."
In March, a fire broke out at a Mexican immigrant detention center near the border Killed 40 people.
Mexico has claimed record numbers of asylum seekers in recent years. Mattias said more migrants are living on the streets and crowding shelters as a direct result of U.S. pressure to calm the border.
More than a month after crossing the Darien Gap, Alejandro Marrufo arrived in Mexico City. He found a job at a local market, and could even send some money home He says his goal is to enter the United States legally. "I don't want to enter illegally; for me, that's not an option," he said.
But with border policy constantly changing, the road ahead for Marrufo (and many other migrants) remains unclear.
According to Julie Turkewitz, "Some people follow the rules and they get nowhere; some people follow the rules and they get in; some people don't follow the rules and they get in. And I think that arbitrary nature is one of the things that gets people the most. Makes it more frustrating, but that's what makes them risk their journey. It's that constant hope for something better, and the idea that, you know, their kids' lives can be better.
"I'm sure you hear it all the time, and it's probably sweet and cliché, but the American dream gets tough. Even after all this, the deportations, all the problems that exist in the United States. States, the strength of the American dream, It's strengthening that journey (for them)."

For more information:
Story by Mark Hudspeth. Editor: Carol Ross.
More Enrique Acevedo