Floods, snow hit storm-weary California
Floods, heavy snow hit storm-weary California
02:18
Southern California residents weary of a storm-soaked winter were hit Wednesday by parting shots from the season's 11th atmospheric river, which flooded roads, caused landslides and toppled trees across the state.
One hit after another in California atmospheric river, Which can cause extreme flooding when these weather events make landfall and release stored water vapor. Flooding closed several miles of the Pacific Coast Highway through Huntington Beach, south of Los Angeles, on the Orange County coast. An overnight landslide trapped two cars on a road in the Baldwin Hills area of ​​Los Angeles County, KNBC-TV reported. Another nearby mountain pass has also given way, threatening the foundation of the hilltop house.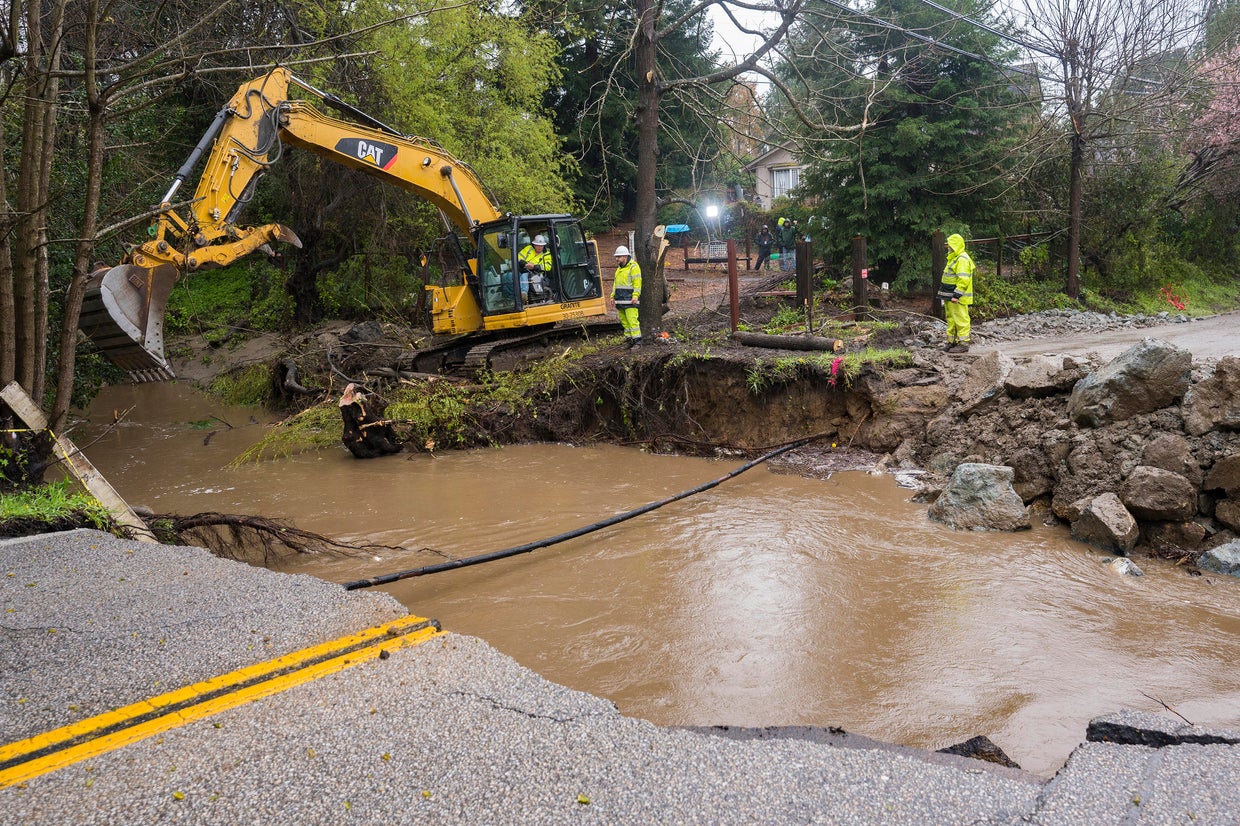 Crews assess storm damage, which washed out North Main Street in Socoil, California, Friday, March 10, 2023.
Nick Currie/AP
Statewide, more than 135,000 utility customers remained without power early Wednesday, according to the power outage tracking website poweroutage.us. Gov. Gavin Newsom issued emergency declarations for three more counties on Tuesday, raising the total to 43 of the state's 58 counties. Statewide, about 27,000 people remain under evacuation orders and more than 61,000 are under warnings to prepare to evacuate due to the effects of the weather, according to the California Office of Emergency Services. Emergency shelters housed 676 people Tuesday night.
California was deep in a drought before an unexpected stream of atmospheric rivers swept into the state from late December to mid-January, causing flooding while creating a staggering snowpack in the Sierra Nevada. Although only 17% of West Coast storms are caused by atmospheric rivers, they contribute 30% to 50% of California's rainfall, according to a NASA study. They contribute 40% of the Sierra snowpack and more than 80% of the state's major floods, the NASA study found.
Last week a levee burst on the Pajaro River fed by a strong atmospheric river, triggering evacuations of flooded farmland and farming communities. About half of the people ordered to evacuate were in Monterey County. The first phase of repairs to the 400-foot levee break was completed Tuesday afternoon and crews are working to raise the section to full height, county officials said.
Flood warnings remain in effect for the Central Coast for the Salinas and Pajaro Rivers, despite the reduced rainfall in California Monterey County and other rivers in the Central Valley as water drains from storm-fed land since late December.
Reporting contributed by Caitlin O'Kane
Trending news
Thanks for reading CBS News.
Create your free account or login
For more features.