SEOUL, South Korea – North Korea on Thursday launched its first intercontinental ballistic missile in a month, possibly the first time it tested a new more mobile, harder-to-detect missile, its neighbors said, as it expanded. A provocative run of weapons tests.
Japan briefly urged residents of a northern island to take shelter, signaling caution over North Korea's growing missile threat.
South Korea's Joint Chiefs of Staff said in a statement that the missile was launched at a high angle from near the North Korean capital of Pyongyang and landed in the waters between the Korean Peninsula and Japan after flying 620 miles.
It describes its range as medium or long. The US National Security Council called it a long-range missile, and the Japanese government said it likely had an intercontinental range.
South Korea's military believes North Korea has launched a new type of ballistic missile, possibly using solid fuel, a defense official said on condition of anonymity due to office rules.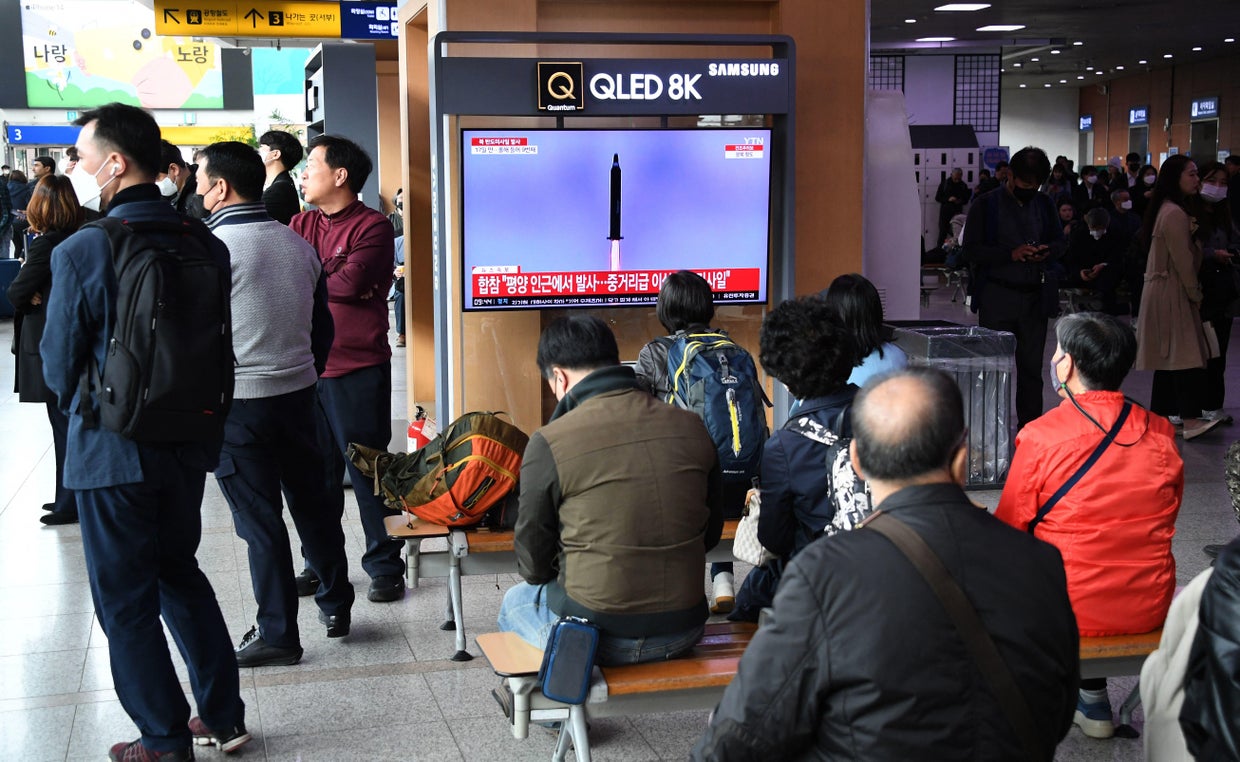 People watch a television screen showing a news broadcast with file footage of North Korea's missile test at a railway station in Seoul, South Korea, on April 13, 2023.
JUNG YEON-JE / AFP via Getty Images
If the launch involves a solid-fuel ICBM, it will be the North's first test of such a weapon. All known North Korean ICBMs use liquid propellants that must be fueled before launch. But a solid-propellant weapon has fuel already loaded, enabling it to be moved more easily and fired more quickly.
A solid-fuel ICBM is one of the key high-tech weapons that North Korean leader Kim Jong Un has promised to develop to better counter the US military threat. He wants a multiwarhead missile, a nuclear powered submarine, a hypersonic missile and a spy satellite.
Kim Dong-yub, a professor at the University of North Korean Studies in Seoul, said the launch could involve a new intermediate- or long-range missile powered by solid propellant, or could be linked to North Korea's preparations to launch a spy satellite.
US National Security Council spokesman Adrienne Watson said the latest launch "unnecessarily raises tensions and risks destabilizing the security situation in the region." Watson said Washington will take all necessary measures to ensure the security of the American homeland and its allies in South Korea and Japan.
During an emergency meeting of the National Security Council in Seoul, officials stressed the need to strengthen trilateral security cooperation with Washington and Tokyo. Japanese Prime Minister Fumio Kishida held a meeting of his NSC to analyze the launch and Japan's response.
Nuclear envoys from Seoul, Washington and Tokyo held a telephone conversation in which they called for a "decisive and united international response" to North Korea's provocations and stronger efforts to curb North Korea's illicit financing of its weapons program.
North Korea typically tests missiles toward international waters between the Korean Peninsula and Japan, using advanced trajectories to avoid neighboring countries. South Korea and Japan typically do not issue evacuation orders unless they determine that North Korean weapons are flying in their direction.
Japanese Defense Minister Yasukazu Hamada told reporters the North Korean missile launched Thursday did not reach Japan's exclusive economic zone. But Japanese authorities still urged people on the northern island of Hokkaido to take shelter and temporarily suspended train, bus and subway services there. Local communities also activated warning sirens through community speakers, urging people to evacuate.
The government then withdrew its missile warning, saying there was no possibility of a missile landing near Hokkaido. Chief Cabinet Secretary Hirokazu Matsuno told reporters the warning was based on Japan's defense ministry's preliminary assessment of the missile's trajectory and was an "appropriate" step to prioritize public safety.
Japanese authorities issued a similar evacuation order in October after a North Korean intermediate-range missile flew over Japan. Guam demonstrated the potential for weapons to reach the US Pacific region.
Thursday's launch was the North's first long-range missile launch by the country Test-fired its longest-range, liquid-fueled Hwasong-17 ICBM on March 16.. Kim Jong Un reviewed his country's attack plans on Monday and vowed to improve his nuclear arsenal in more "practical and aggressive" ways.
North Korea has launched nearly 100 missiles since early 2022, many of them nuclear-capable warheads that put the US mainland, South Korea or Japan within striking distance.
North Korea's test campaign is mainly in protest of the South Korean-US military Drill that looks like a rehearsal for an attack. Some observers say North Korea is using its adversary's exercises as a pretext to modernize its arsenal and press Washington and Seoul for concessions such as lifting economic sanctions. South Korean and US officials say their drills are defensive and designed to respond to North Korea's growing nuclear and missile threats.
North Korea unveiled a new type of nuclear warhead in late March, raising concerns that it could conduct its first nuclear test in more than five years. Foreign experts are debating whether North Korea has developed a warhead small and light enough to fit into its more advanced missiles.
South Korean officials say North Korea has not been answering South Korean calls to a set of inter-Korean hotlines for nearly a week. Communication in these channels is intended to prevent accidental collisions along the disputed western sea border between rivals.
On Tuesday, South Korean Unification Minister Kwon Yong-se expressed "strong regret" over what he called North Korea's "unilateral and irresponsible attitude" to hotlines.
North Korea's advancing nuclear arsenal is expected to be a major topic at a summit between South Korean President Yoon Suk-yeol and President Biden in Washington later this month.
Talks between world leaders at Japan's Group of Seven meeting in May could be key to maintaining diplomatic pressure on North Korea, experts say. Permanent members of the UN Security Council, China and Russia, have imposed tougher sanctions on North Korea in recent months, deepening a divide. Russia's war against Ukraine.
More

Source link