Smith Collection/Gado/Getty Images
Want to enjoy unlimited iced coffee, lemonade and fountain drinks this summer? Then you'll want to check out this crazy deal from Panera Bread. Sign up for a subscription to the Unlimited Sip Club by Thursday, May 18 and you'll get a free drink from now until July 4.
Once you sign up through MyPanera, you can redeem the offer at PaneraBread.com and in-store through the Panera app. Just add a qualifying drink and it will be deducted at checkout. You can read the full list of included drinks below. Note that the Unlimited Sip Club doesn't include frozen drinks or fancy craft coffee drinks — and there's an upcharge if you want to add espresso or flavored syrups. Membership does not include bottled beverages, either.
Membership also includes free delivery for the month of June, so you won't even need to go to Panera to get your summer drink fix.
This Panera offer is, essentially, a Free trial of Unlimited Sip Club. If you cancel by July 4, you pay nothing. If you choose to be a member of the Unlimited Sip Club, your card will be charged $11.99 per month for unlimited drinks.
If you are thinking of taking advantage, click the button below and do it now This free trial offer expires tomorrow, May 18
Panera Unlimited Sip Club, $11.99/mo (free until July 4th)
Which drinks are free at Panera (and which aren't)
An Unlimited Sip Club subscription allows you to order the following drinks once every two hours, including unlimited refills: drip hot coffee, iced coffee, hot tea, fountain soda drinks, bubbler drinks (regular, sweet and passion green iced tea and agave lemonade) and charged lemonade drinks (Fuji Apple Cranberry, Mango Citrus Yuzu and Strawberry Lemon Mint). Milk, skim milk, nut milk, half and sweetened additions are included in the subscription.
Subscription does not include bottled beverages, smoothies, frozen blended beverages, cold brew iced coffee or espresso and cappuccino beverages. Customizations such as added espresso and added syrups (Madagascar vanilla, bittersweet chocolate, cinnamon and caramel) are not included in the monthly subscription price. Upcharges apply.
Paner's Unlimited Sip Club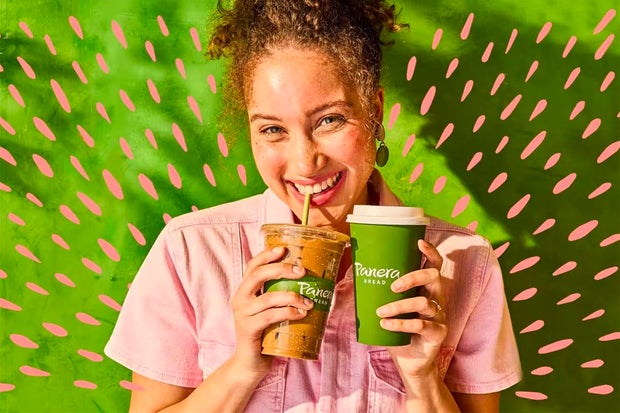 panera
Key Features of Panera Unlimited Sip Club:
Membership is free until July 4, and $11.99 per month thereafter, limited to one self-serve drink every two hours (includes refills).
Cold Brew Iced Coffee, Cappuccino & Latte Beverages Excluded Customizations Excluded (Espresso Shot, Syrup), Upcharges Apply Free Daily Delivery Through June (Min. $5 Order)
Panera Unlimited Sip Club, $11.99/mo (free until July 4th)
CBS Essentials Related Content:
More Fox Van Allen