The remains of a retired US Marine who died in Ukraine after joining the fight against Russian aggression will be returned home on Friday.
Marine Capt. Grady Kurpasi (ret.), 50, went missing in April 2022 following small arms fire in the Kherson region. He was located a year later by the global human rights advocacy group, the Weatherman Foundation.
Kurpasi's remains are being repatriated on a Turkish Airlines flight from Istanbul to New York's John F. Kennedy Airport. His remains are expected to arrive in the United States on Friday morning. There will be a brief ceremony at the airport before his body is flown back to his family in Wilmington, NC, by private plane.
Kurpasi's disappearance
On the day of his disappearance, the 20-year veteran of the US military left his post with British national Andrew Hill to investigate incoming fire in southern Ukraine, according to the Weatherman Foundation. Hill was reportedly captured by Russian-backed forces and charged as a mercenary. Kurpasi did not return to his troops.
Investigators from the Weatherman Foundation, founded by Bess Weatherman and Andrew Duncan, worked for nine months to locate Kurpasi's remains and ensure their safe passage to American soil.
Finding Kurpasi's remains was "like finding a needle in a haystack," Duncan told CBS News.
"Not only are we bringing her home, we've spent months trying to find her remains," Duncan said. "This has been like a pet project for our organization because we feel very strongly that you should never leave an American behind.
Kurpasi intended to assist in the training and evacuation of troops
Kurpasi, a Purple Heart recipient, was known for "leading by example" and "consistently inspiring those around him through his dedication, strength and unwavering loyalty," according to veteran rescue and assistance nonprofit Project Dynamo.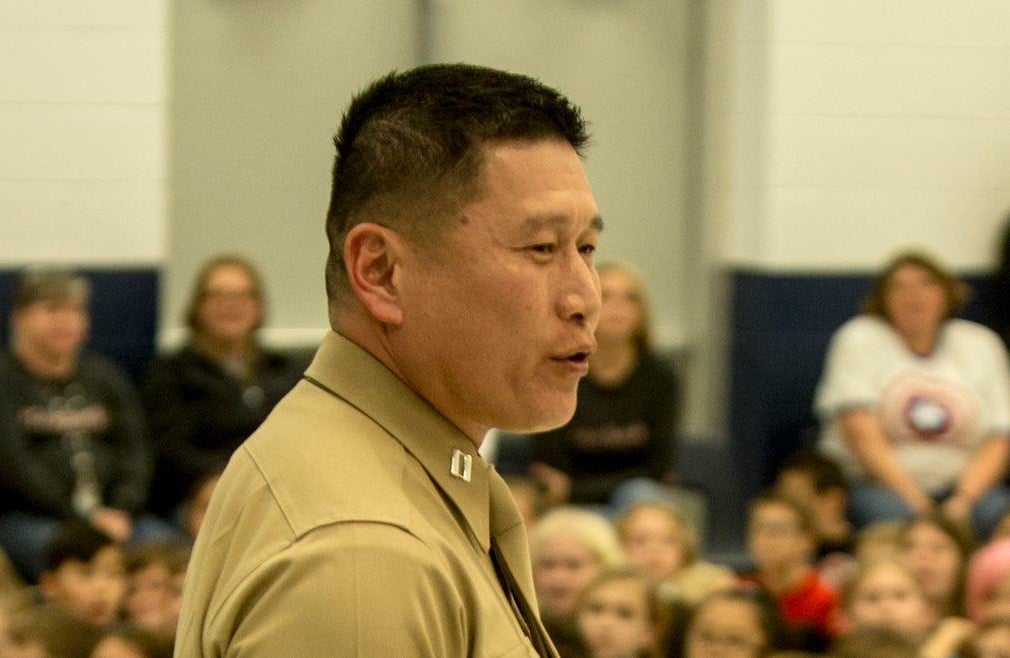 U.S. Marine Capt. Grady Kurpassi (ret.) is seen in a file photo from the U.S. Marine Corps website. A family friend told CBS News on June 16, 2022 that Kurpasi had not been heard from since being shot by small arms fire during a battle with Ukrainian forces.
USMC
After retiring from the Marine Corps, Kurpasi felt he had to help Ukrainians defend their country against the Russians. According to the Weatherman Foundation, he intended to help train and evacuate troops but ended up joining the Ukrainian Foreign Legion. Kurapsi is survived by his wife Hyson Kim and his daughter.
Kurpasi was adopted from Korea and grew up in New York City before joining the Marines. As a child he flew to JFK Airport to meet his new family and now, the same airport will receive his remains on Friday.
At least 12 Americans have been killed in fighting in Ukraine
The State Department warns Americans not to travel to fight in Ukraine, particularly citing the singling out of U.S. citizens in Ukraine by Russian security officials, but U.S. citizens continue to make up some of the foreign fighters supporting Ukrainian troops.
According to "Task and Purpose," at least 12 Americans have been killed fighting in Ukraine since the war began. The State Department has not confirmed the total number of US citizens killed in Ukraine.
Two US military veterans who went missing while fighting Ukrainian forces with Russia Released in September After about three months in captivity, according to relatives.
Alex Druck, 39, and Andy Huynh, 27, disappeared in the Kharkiv region of northeastern Ukraine, near the Russian border. The two traveled to Ukraine themselves and became friends.
spoke to CBS News Another former US Marine who said he knew Huynh and Druk and worked with them in Ukraine before they disappeared.
"We knew that by going over there to serve the Ukrainian government, we would have little to no protection extended to us and the United States government would be powerless to help us," said the veteran, who asked not to stay. identified
It was witnessing atrocities committed by Russian troops outside Kiev that inspired Kurpasi to stay and fight, Duncan said.
"These guys are heroes. They're not doing it for any attention. They're doing it knowing they have no government support, and they're still doing it," Duncan said.
Margaret Brennan contributed to this report.
More

Source link