A local television reporter is accused of using South Dakota Gov. Christy Noem's personal cellphone number to make prank phone calls to the former chair of the state's Republican Party, court documents show.
An arrest warrant was issued Wednesday for former Capitol Bureau reporter Austin Goss of Dakota News Now in Sioux Falls. Goss was charged with making "threatening, harassing or misleading" telephone calls.
According to court documents, Goss made a call on Jan. 22 using the website PrankDial.com, which made it appear the call was coming from Noem's personal cellphone. The call was made to a man identified in court documents as "DL" Dan Lederman, the former chairman of the South Dakota Republican Party, who confirmed to CBS News that he was the recipient of the prank call. He declined to comment further.
According to an affidavit filed in state circuit court, Lederman heard a recording called "Mafia Guy Got Vaccines." In the recording, a man questions the listener about the whereabouts of the Covid-19 vaccine, then accuses the listener of conspiring to "move three boxes of that AstraZeneca out of this family," adding, "Oh, I get it. So angry."
The recording ends with the line, "You have been pranked by PrankDial.com."
A state investigator issued a subpoena to PrankDial.com and Internet service provider MidContinent Communications, finding that the IP address used to make the calls matched Goss's. Investigators also interviewed Lederman, who said Goss had her phone number and occasionally sent her snide or rude comments. Lederman said he was disturbed by the prank phone call and the tone of the recording made him concerned for his safety, the affidavit said.
According to the affidavit, Goss met with Noem several times as a political reporter. "It would be plausible that Austin may have possessed Governor Noem's personal phone number," the affidavit states.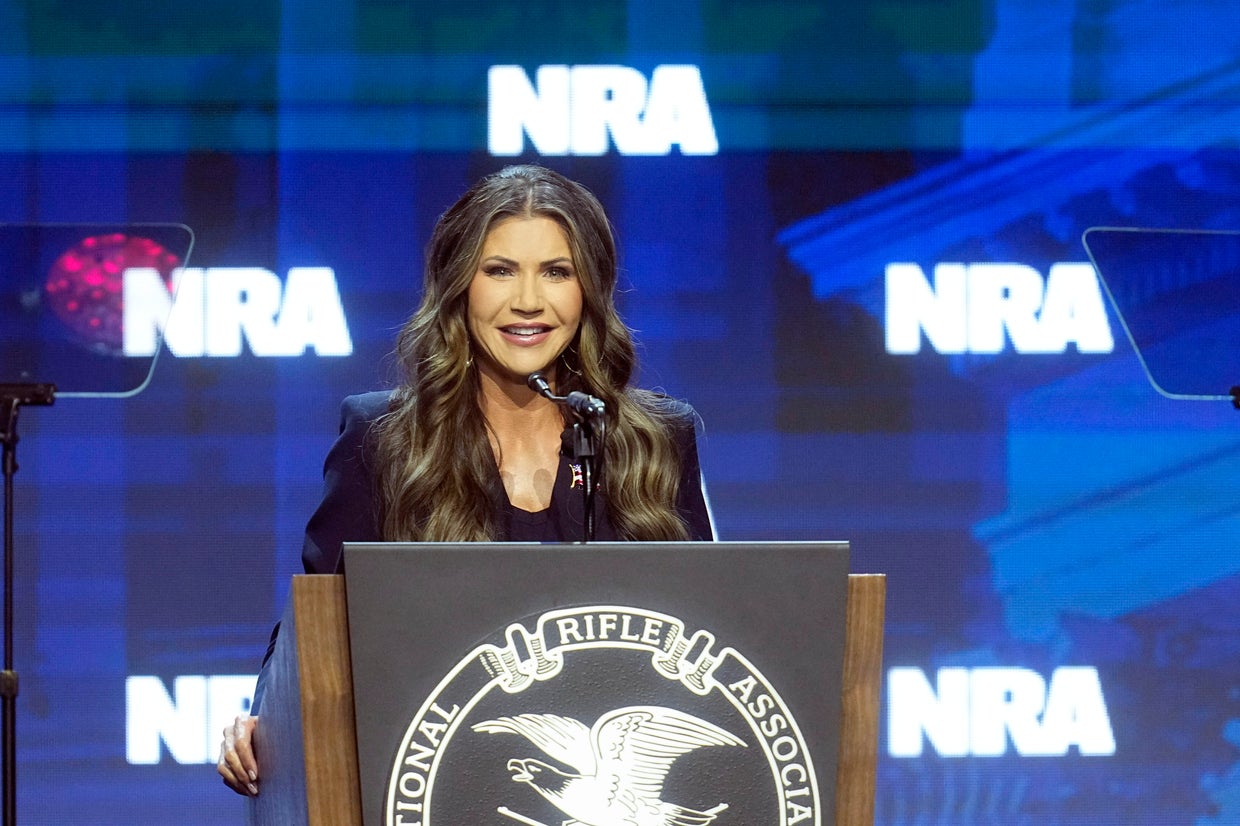 South Dakota Gov. Christy Noem speaks at the National Rifle Association convention, Friday, April 14, 2023, in Indianapolis.
Darron Cummings/AP
In January, Noem said his personal cellphone number had been hacked. He blamed it on the release of his Social Security number, among hundreds of documents that the House Jan. 6 committee released last year. "The blatant mishandling of personal information has real-world consequences," Noem said in a statement at the time. "If such a call comes from my number, please know that I had no involvement."
According to his bio page on the Dakota News Now website, which was removed Thursday, Goss "moved to South Dakota in June 2020 to continue his career in journalism in the Pierre Capitol Bureau."
The station announced that Goss had been fired Thursday afternoon.
"We learned of the incident involving Austin Goss last night," Dakota News Now and Dakota Territory News said in a statement. "Once we gathered the information, we decided to terminate his employment with our stations. Dakota News Now and the Kota Territory were unaware of Mr. Goss' activities and deeply regret the lack of judgment he showed, which violated our policies and our Contrary to principles. Commitment to the highest standards of journalistic integrity."
Goss did not respond to requests for comment. If convicted, he faces up to one year in county jail, a $2,000 fine, or both.
Trending news