Oregon detectives have reopened their investigation into the 2013 disappearance of a woman after a mushroom hunter found human hair and suspicious tissue, officials said Tuesday.
Stephanie Ann Warner disappeared after leaving the Fourth of July parade in Ashland with her then-boyfriend, Lenny Ames, the Jackson County Sheriff's Office said. They were supposed to go to Warner's home in Ruche, southern Oregon, near the California border, but Warner was never seen again.
"Lenny and his son Jared Fournier are believed to know something about Stephanie's disappearance but have been uncooperative with the investigation," authorities wrote on Facebook.
Officials believed Warner, then 43, was the victim of the murder, but Jackson County Sheriff's Sgt. Jesse Ainsworth says.
Investigators reopened the cold case after a mushroom hunter found human hair and tissue about 2.5 miles from where Warner lived, officials said. After a mushroom hunter reported suspicious remains, officers went to the scene.
"We went in there and seized some hair and since then we've confirmed it's human," Ainsworth said. The hair is being sent to the Oregon State Police Forensic Laboratory for further testing.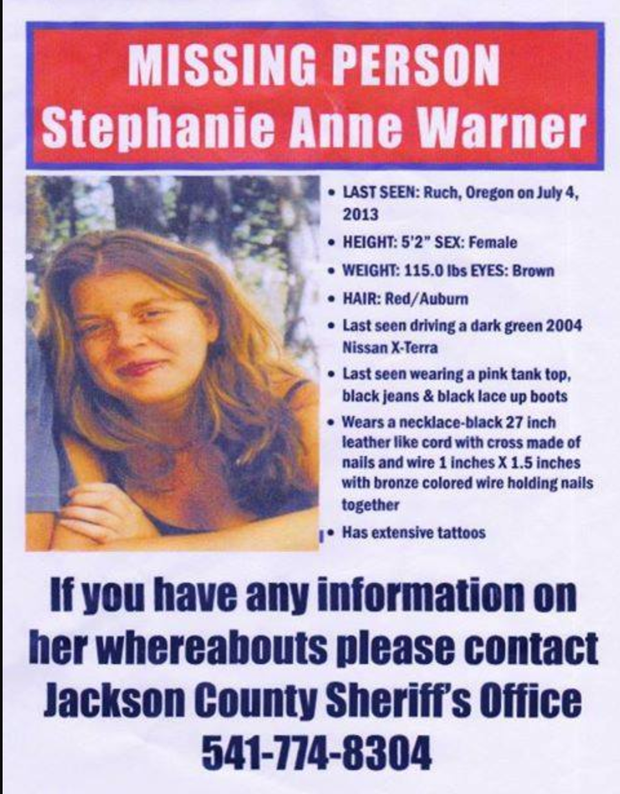 The Missing Poster by Stephanie Ann Warner
National Missing and Unidentified Persons System
The Jackson County Sheriff's Office will go out with search and rescue teams and cadaver dogs to see if they can find Warner's remains, authorities said.
"I believe this case is solvable and that's why we're never going to give up until we find her. We want to get Stephanie home to her family and get justice for her," Ainsworth said. , all the casebooks, all the evidence, re-interviewing everyone and we're close and I know we're going to find him, but we just need a little help."
Trending news
Aliza Chasan
Thanks for reading CBS News.
Create your free account or login
For more features.