OK: McCurtain County protests over threatening audio
OK: McCurtain County protests over threatening audio
01:46
A county commissioner in far southeastern Oklahoma has been identified by local newspapers as one of several officials catch tape The man who discussed the killing of journalists and the lynching of black people has resigned from office, Gov. Kevin Stitt's office confirmed Wednesday.
Stitt spokeswoman Carly Atchison said the office received a handwritten resignation letter from McCurtain County Commissioner Mark Jennings. In it, Jennings said he was resigning effective immediately and that he planned to release a formal statement "in the near future regarding recent events in our county."
The threatening comments by Jennings and McCurtain County Sheriff's Office officials were received following a March 6 meeting and reported earlier this week by the McCurtain Gazette-News in its weekend edition. They sparked outrage and protests in Idabel town, the county seat.
In a post on the sheriff's office's Facebook page Tuesday, officials did not address the recorded discussion but claimed the recording was obtained illegally.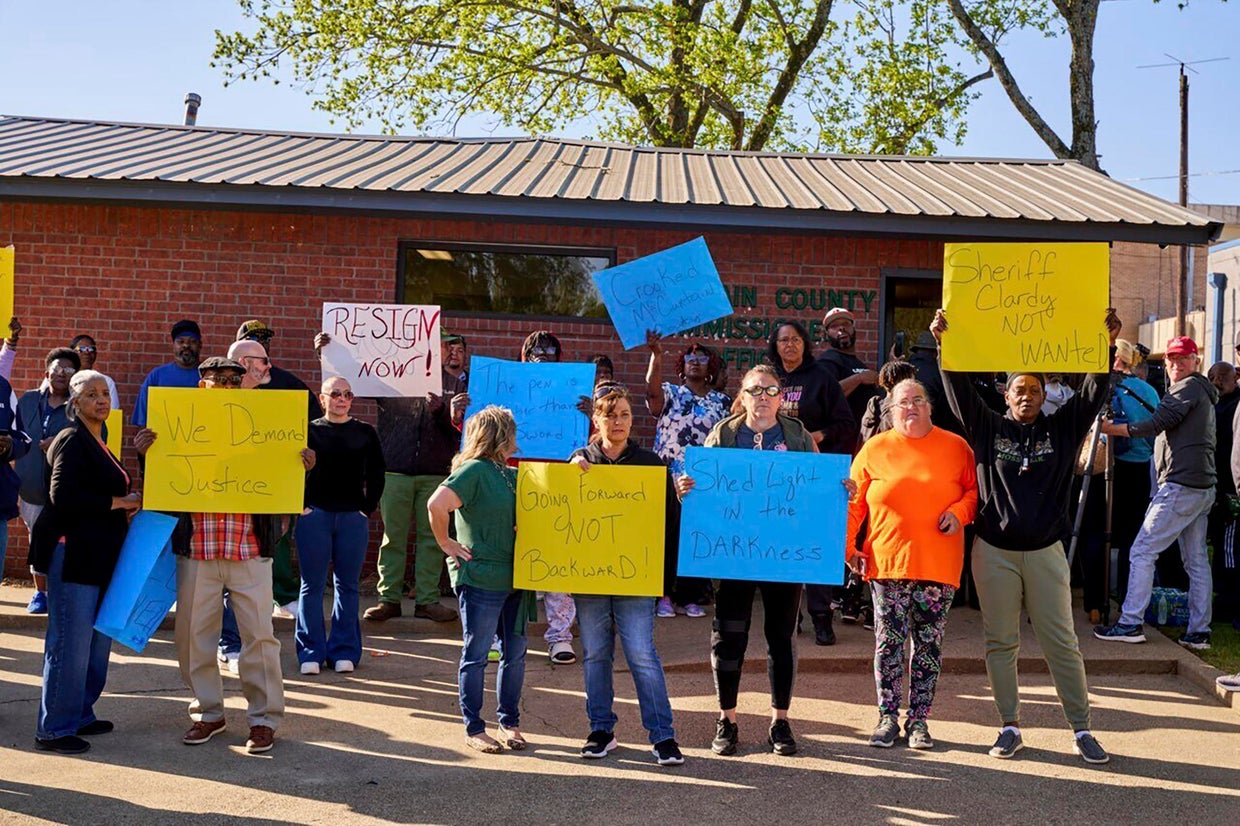 In this photo provided by Southwest Ledger, McCurten County residents call for the resignation of several McCurten County officials after the release of tapes of officials making racist comments over the weekend in Idabel, Okla., Monday, April 17, 2023.
Christopher Bryan/Southwest Ledger/AP
Also Wednesday, the Oklahoma State Bureau of Investigation confirmed it had opened an investigation into the matter at the governor's request.
The recorded conversation included Sheriff Kevin Clardy, Sheriff's Capt. Alicia Manning, Jennings and Jail Administrator Larry Hendricks. During that conversation, Clardy, Manning and Jennings appear to discuss Bruce Willingham — longtime publisher of the Gazette-News — and his son Chris Willingham, a reporter.
Jennings tells Clardy and Manning, "I know where to dig two deep holes if you ever need one," and the sheriff replies, "I got a digger."
Jennings also said he's known "two or three hit men" in Louisiana, adding "they're pretty cool guys."
In the recording, Jennings is seen complaining about not being able to hang black people, saying: "They've got more rights than us."
The Associated Press is working to verify the authenticity of the recording. None of the four officials returned telephone calls or emails from The Associated Press seeking comment.
Bruce Willingham told the AP that the recording was made when he placed a voice-activated recorder inside the room after a county commissioner meeting because he suspected the group was continuing county business after the meeting ended, in violation of the state's Open Meetings Act. .
Willingham said he spoke with his attorneys twice to make sure he wasn't doing anything illegal.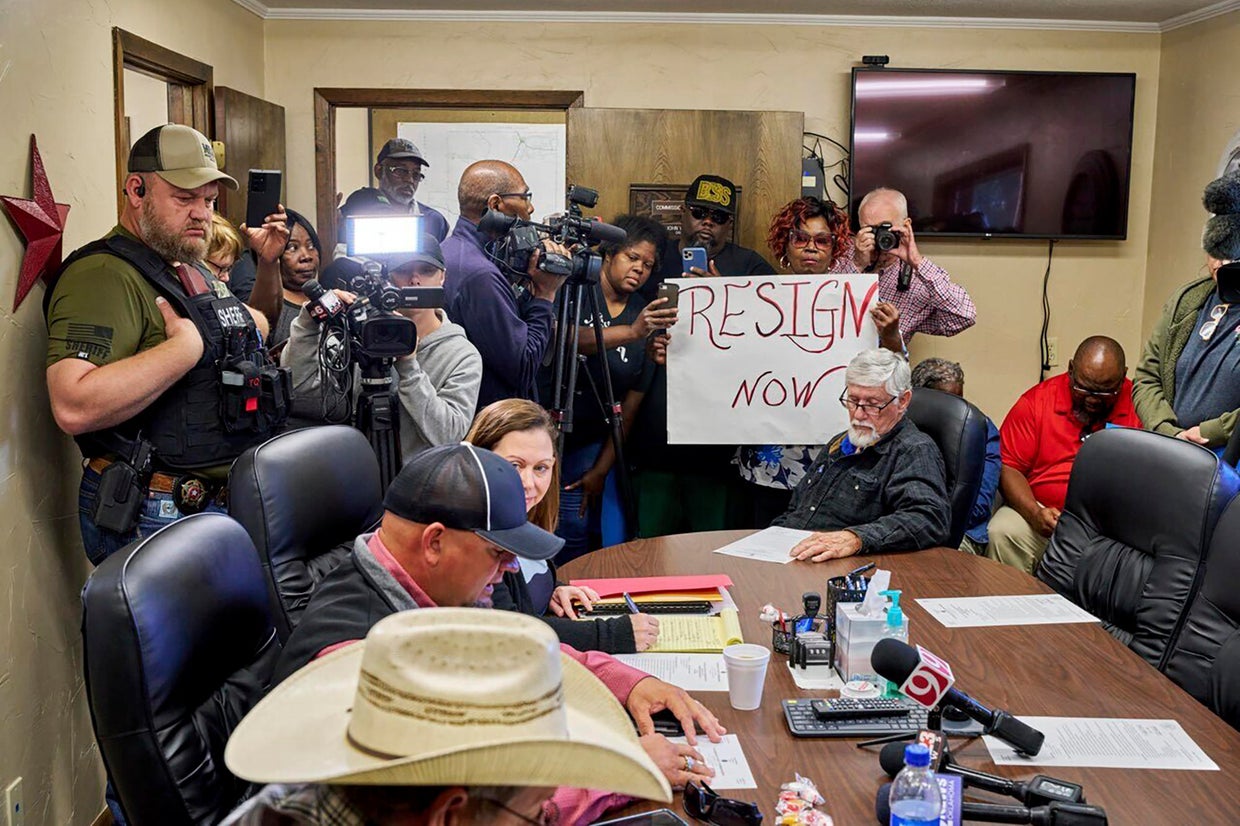 In this photo provided by Southwest Ledger, people in Idabel, Okla., call for the resignation of McCurtain County officials during a county commissioners meeting early April 17, 2023, after tapes containing the officials' racist comments were released over the weekend.
Southwest Ledger via Christopher Bryan/AP
Joey Sennett, a journalism professor at Oklahoma State University, said the recording would be legal under Oklahoma law if it was obtained in a location where the recording officers did not have a reasonable expectation of privacy.
Bruce Willingham said he believes local officials were upset about "the stories we ran that put the sheriff's office in a bad light" — including the death of Bobby Barrick — a Broken Bow, Oklahoma, man who died in March 2022 at a McCurtain County hospital. After deputies shot him with a stun gun. The newspaper filed a lawsuit against the sheriff's office seeking body camera footage and other records related to Barrick's death.
Separately, Chris Willingham filed a federal lawsuit against the sheriff's office, Clardy, Manning and the board of county commissioners alleging that Manning defamed him after he wrote an eight-part series detailing problems within the sheriff's office. After the first few articles were published, the lawsuit claims, Clardy and Manning began investigating which office employees were talking to the newspaper and trying to get a search warrant for Willingham's phone.
The lawsuit, which was filed the same day the recordings were made, alleges that after the series was released, Manning told a third party during a teleconference that Chris Willingham had exchanged marijuana for sexually explicit images of children from a man who had been arrested. Complaints of images of child sexual abuse.
"Manning made these (and other) false statements about Willingham to retaliate for articles he wrote about (the Sheriff's Office) as a reporter for the McCurtain Gazette and to damage his credibility as a reporter and reporter," the lawsuit states.
More than 100 people gathered outside the McCurtain County Courthouse in Idabel earlier this week, many of them calling for the resignation of the sheriff and other county officials.
On Tuesday, the Oklahoma Sheriffs Association, a voluntary membership organization and not a regulatory body, held an emergency meeting of its board. It voted unanimously to expel Clardy, Manning and Hendricks from the association.
Trending news