A 40-year-old man whose legs were paralyzed in a cycling accident 12 years ago can walk again thanks to implants in his brain and spinal cord.
According to a study published Wednesday in the journal Nature, the brain-spine interface (BSI) remained stable for a year, allowing Gert-Jan Oskam to stand, walk, climb stairs and cross complex terrain. Oskam even regained some control over his legs when BSI stopped.
"My wish was to walk again and I believe it was possible," Oskam said during a news briefing.
Oskam had an accident in China and thought she would be able to get the help she needed when she got home to the Netherlands, but the technology wasn't advanced enough for her at the time, Oskam said.
Oskam previously participated in an experiment by Grégoire Courtin, a neuroscientist at the Swiss Federal Institute of Technology who also worked on the new study, according to the study's authors. In 2018, Courtin's team found that the technology could stimulate the lower spine and help people with spinal cord injuries walk again. After three years, Oscam's growth plateaued.
For the latest study, the research team restored communication between Oscam's brain and spinal cord through a digital bridge. Oskam participated in 40 sessions of neurological rehabilitation throughout the study. He said he is now able to walk at least 100 meters (328 feet) or more at a time, depending on the day.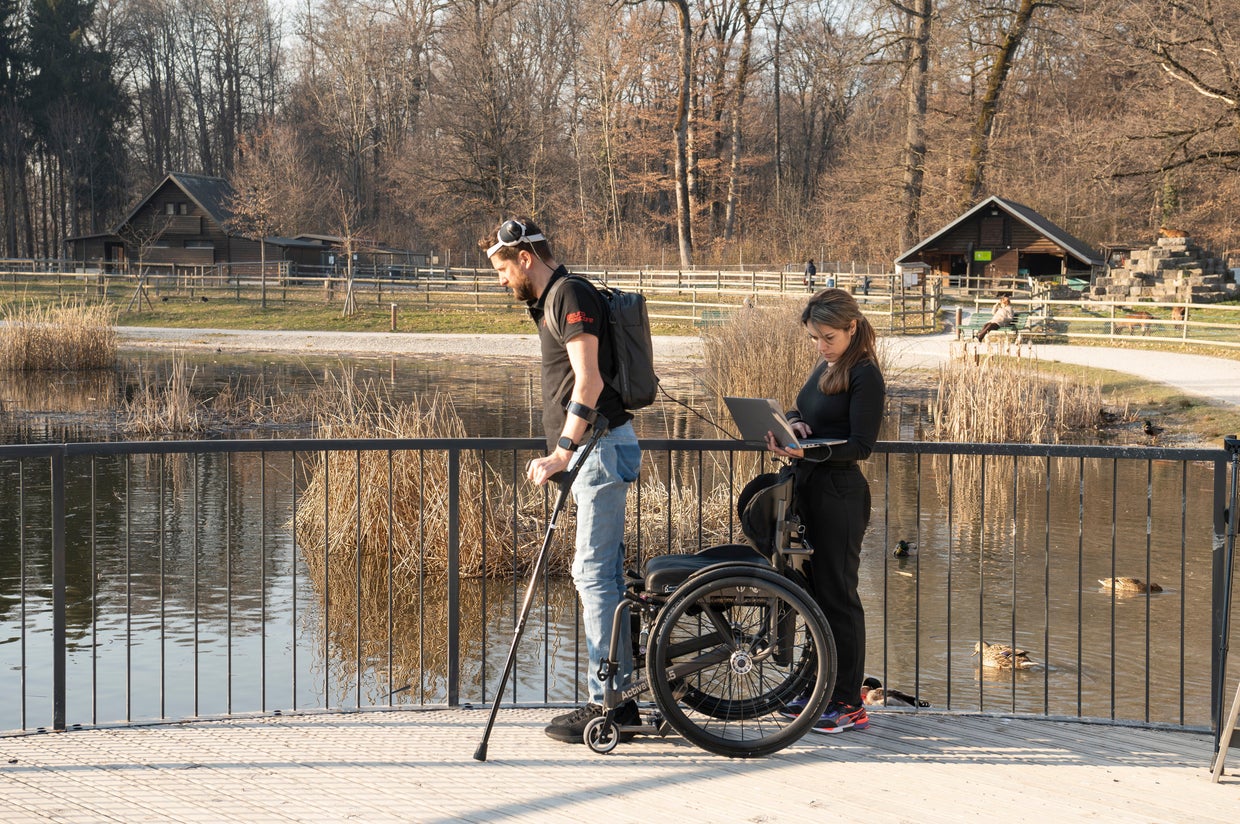 Gert-Jan Oskam can walk with the help of a digital bridge that connects his brain and spine.
CHUV / Gilles Weber
"We took Gert-Jan's thoughts and translated these thoughts into a spinal cord stimulation to re-establish the volunteer movement," says Courtin.
The researchers say the next advance will be to miniaturize the hardware needed to run the interface. Currently, Oscam carries it in a backpack. Researchers are also working to see if a similar device can restore arm movement.
There have been several advances in the treatment of spinal cord injuries in recent decades. A study published in Nature in February found that targeted electrical pulses delivered to the spinal cord can help Improve arm and hand movement after stroke.
The researchers who helped Oscam believe that the technology they used could, in the future, also restore arm and hand movements. They also think that, with time and resources, they can use the advances to help stroke patients.
Trending news
Aliza Chasan