President Biden is nominating General Charles "CQ" Brown Jr. to serve as the next chairman of the Joint Chiefs of Staff, the president is expected to announce Thursday at the White House's Rose Garden ceremony.
Brown is currently the Air Force Chief of Staff.
The post is the nation's highest-ranking military officer, and the chairman is the primary military adviser to the president, as well as the secretary of defense and the National Security Council.
Brown will replace General Mark Milley, who was appointed by then-President Donald Trump in 2019. The Chairman serves at the pleasure of the President for a term of four years. Milley held the job during the January 6, 2021, attack on the Capitol and the deadly withdrawal of US troops from Afghanistan.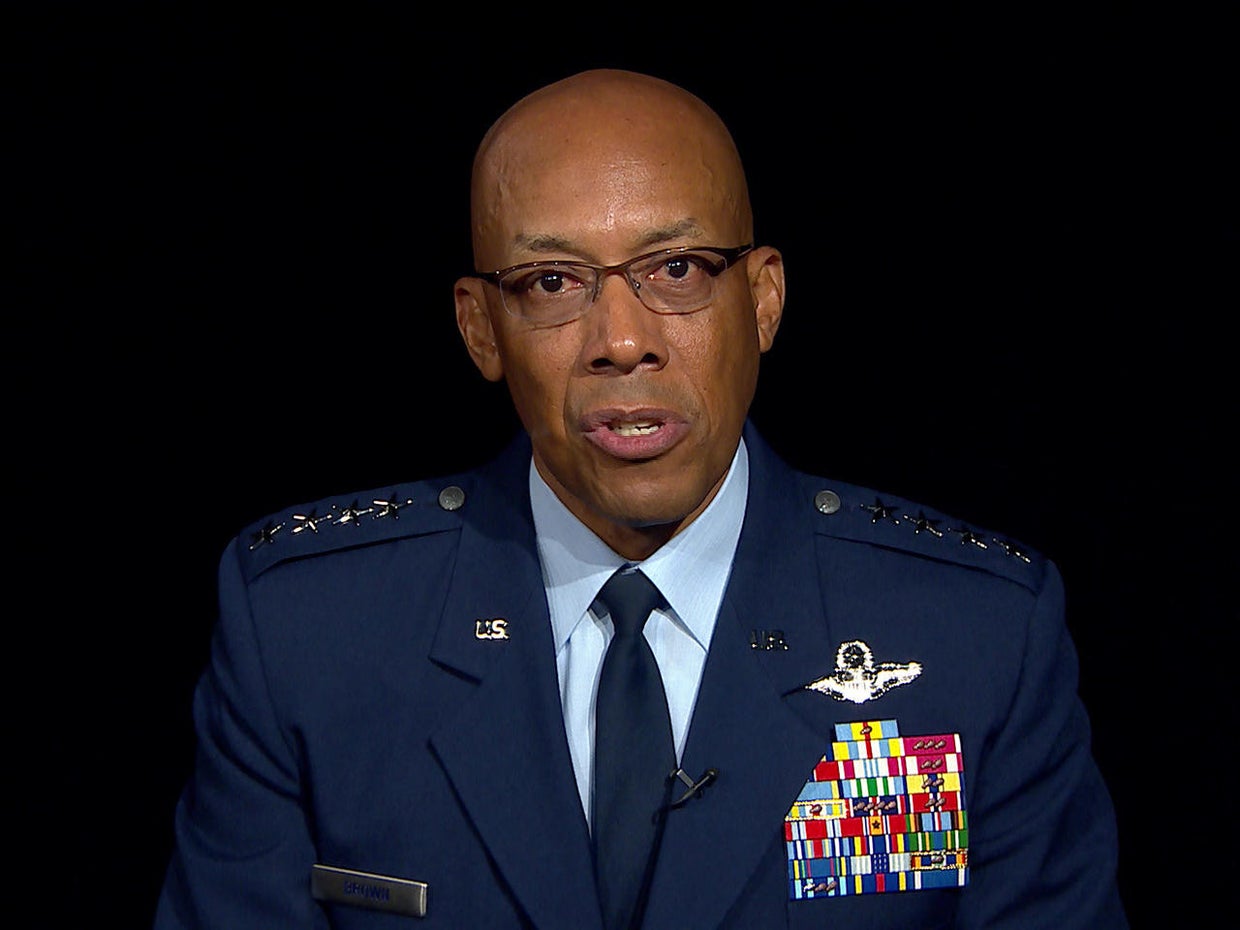 General Charles Q. Brown, Jr., Chief of Staff, United States Air Force.
CBS News
Milley's term ends in September, but it is customary to choose a successor in the spring to allow time for congressional confirmation. Secretary of Defense Lloyd Austin recommended Brown.
But Brown's confirmation could be delayed because Republican Sen. Tommy Tuberville is blocking Senate confirmation of hundreds of senior military promotions to protest the Pentagon's policy on abortion-related travel for service members.
If ultimately confirmed, Brown would be the first black chairman of the Joint Chiefs of Staff since General Colin Powell was tapped by President George HW Bush in 1989.
With Austin as the first black secretary of defense, Brown's selection will mark the first time two black Americans hold the Pentagon's most senior post together.
As Air Force chief, Brown is already a member of the Joint Chiefs of Staff. He currently oversees the training and equipping of nearly 700,000 active-duty, reserve, guard, and civilian personnel in the United States and abroad.
According to his Pentagon biography, Brown began his military service as a command pilot, with more than 3,000 flying hours, including 130 combat hours. He holds a bachelor's degree in civil engineering from Texas Tech University. Prior to serving as the Air Force Chief of Staff, Brown was the commander of the Pacific Air Forces of the US Indo-Pacific Command.
The White House has said Brown is a strong contributor to U.S. efforts to equip Ukraine with the capabilities it needs to resist Russian aggression, and has said he is deeply knowledgeable about the threat from China.
Mr. Biden interviewed Brown and Marine Corps Commandant General David Berger for the post.
—Weijia Jiang contributed to this report.
Trending news
Catherine Watson