Grand Canyon National Park, Ariz. — Officials say an Indiana woman died earlier this month while hiking inside Grand Canyon National Park.
The National Park Service said Wednesday that the 36-year-old from Westfield died on May 14 while trying to hike from the Grand Canyon Rim to the Colorado River and back in one day.
Rangers responded to a report of an unresponsive hiker on the Bright Angel Trail above the Three-Mile Resthouse. Emergency personnel reached him but "shortly thereafter the hiker became pulseless" and resuscitation efforts were unsuccessful, the park service said.
His name has not been released.
The Park Service and the Coconino County Medical Examiner are investigating his death.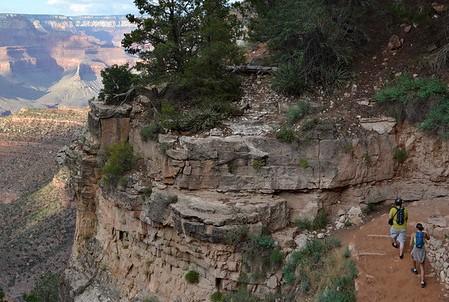 Bright Angel Trail above the tunnel below Grand Canyon National Park
National Park Service
Park rangers say the incident is a reminder that visitors, especially interior canyon hikers and backpackers, should plan for the weather and expect extremely hot days in the coming weeks. It is unclear whether the weather played a role in his death.
Some exposed areas of the trail can reach 120 degrees in the summer.
Hiking the Inner Pass between 10am and 4pm is strongly discouraged during hotter temperatures. Additionally, hiking from the rim to the river and back in one day is not encouraged.
"Hiking in extreme heat can cause serious health risks, including heat exhaustion, heat stroke, hyponatremia (a life-threatening electrolyte imbalance caused by drinking too much water and not eating enough salt) and death," the Park Service said in a news release.
Rangers also say that limited staffing during the summer, the number of rescue calls, personnel safety requirements and limited helicopter flying ability during extreme heat or inclement weather can lead to slower responses to emergency calls.
Trending news
Thanks for reading CBS News.
Create your free account or login
For more features.