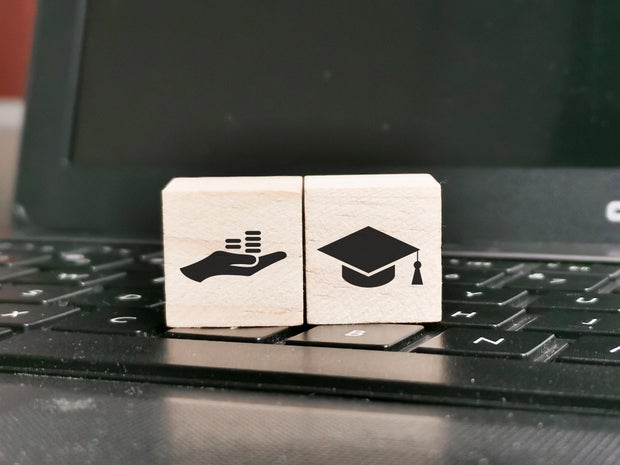 Private student loans can be smart if you want to pick and choose your term, payment plan, and interest rate type.
Getty Images/iStockphoto
The fall semester is fast approaching. If you're planning to attend college in September, you'll want to start securing financial aid now—before it's too late.
Scholarships and grants are the best choices, as they do not have to be repaid. If you need more funding, student loans can help. There are generally two types of loans that you can choose from: Federal student loans and private ones.
Not sure which one you should use for your higher education expenses? Here's what you need to know.
Start exploring your student loan options online now.
What is a federal student loan?
Federal student loans are loans issued by the US Department of Education.
"They are much easier to qualify for than private student loans, have flexible repayment options including income-driven repayment plans, offer forgiveness and debt discharge options, and interest rates are not based on credit — but by law," says Elaine Rubin, Director of Communications for Edvisors.
Federal student loan interest rates are also fixed, meaning your rate will never change as long as you have the loan. This helps provide consistency in payments — and makes for easier budgeting.
"All loans come with interest, but how much interest and how much you're responsible for repaying will depend on the type of loan you get," says Patricia Lopez, director of financial aid and student loans at Santa Clara University. "Federal student loans have several benefits that most private loans do not, such as need-based subsidies that prevent interest from accruing while a student is enrolled and fixed interest rates."
Some federal loans, such as direct subsidized and direct unsubsidized loans, have limits. Others, such as Parent Plus Loans, allow you to borrow up to the full cost of your college attendance. That can be helpful for students with little help elsewhere, but it can also be dangerous, according to financial aid advisor Jack Wang.
"Because PLUS loans allow a grad student or parent to borrow as much as they need, families can get themselves into real trouble with too much debt," Wang said.
What is a private student loan?
Private Student Loans As the name suggests, loans issued by privately owned companies, not the federal government. That usually means more options for rates, terms, and repayment plans, but those can come as well A tough qualification process.
"Private student loans are offered by financial institutions, require a credit check and may require a cosigner," says Rubin.
With private student loans, your credit score — or your cosigner's score — plays a big role in your ability to get a loan, as well as what rate you'll pay when you do. For this reason, private student loan interest rates are often much higher than federal student loan rates, which are subsidized by the government and not credit-dependent.
The big advantage of private student loans, Wang says, is "borrower choice, rate, term and payment type."
"They give a family an opportunity to plan their finances," Wang said. "Some private loans also offer benefits such as job search assistance or even a small cash-back option for good grades."
When is a federal student loan the best option?
In most situations, you'll want to use any federal loans available to you before moving on to personal loans. For one, federal loan rates are generally lower and more affordable (unless you have spectacular credit). If you go down a certain career path, you'll also have access to things like income-based repayment plans and possible student loan forgiveness.
"From a financial aid perspective, we recommend exhausting your federal loan options before taking out any personal loans," Lopez said. "In general, federal student loans usually have more benefits than loans from banks or other private sources."
Federal loans are also easy to qualify for, so if you have bad credit (or no credit), they can be a smart choice, too.
When is a private student loan the best option?
Private student loans can be smart if you want to pick and choose your term, payment plan, and interest rate type. With private loans, you can often choose between five- to 30-year terms or interest-only, flat-fee, or combined principal-and-interest payments. You can often choose between fixed and variable rates.
You can consider private student loans if you or your cosigner have excellent credit. In this case, it is possible that your interest rate may be lower on a personal loan than on a federal loan.
Finally, if you have a cosigner and want the option of releasing them in the future, you'll want to opt for a personal loan. Federal student loans do not allow for this.
"For families who prefer to pay, want a cosigner release option, or have excellent credit to qualify for a low rate, a personal loan may be a good option," Wang says.
When you may need both types of college loans
In many cases, you'll want a combination of federal and private student loans — the latter picking up the slack from the former. As Rubin explains, "Federal loans with the best borrower benefits — the Direct Stafford Loan — have annual and overall loan limits, leaving students with financial aid gaps."
Personal loans can be a good option to fill those gaps and cover remaining college expenses.
If you choose this strategy, Rubin cautions, "Always borrow responsibly. Understand your current debt, future earnings and ability to repay. Don't borrow more than you need and be prepared to repay once you finish your program. "
Learn more about your student loan options here.
Talk to your financial aid office
If you're not sure which type of loan is right for your higher education expenses, talk to your school's financial aid office. They can walk you through your options, the cost of each, and their pros and cons.
MoneyWatch: Managing Your Money
more and more

Source link