Two NASA astronauts, a Japanese space veteran and a Russian cosmonaut bid farewell to their seven space station crewmates Friday night, stowed away in their Crew Dragon capsules and undocked for a 157-day splashdown in the Gulf of Mexico on a fiery Saturday night mission.
"Before we started, our flight director referred to Expedition 68 as 'Iron Man,'" pilot Josh Casada said last week. "And that was before the universe started throwing curveballs our way, and then it got really crazy.
"While we were here, we did six spacewalks, we installed two solar arrays, we built the infrastructure for two more solar arrays and we fixed a broken old one. We had five cargo vehicles (visits) with all the science and hardware. That (supports) hundreds of experiments and thousands of researchers around the planet."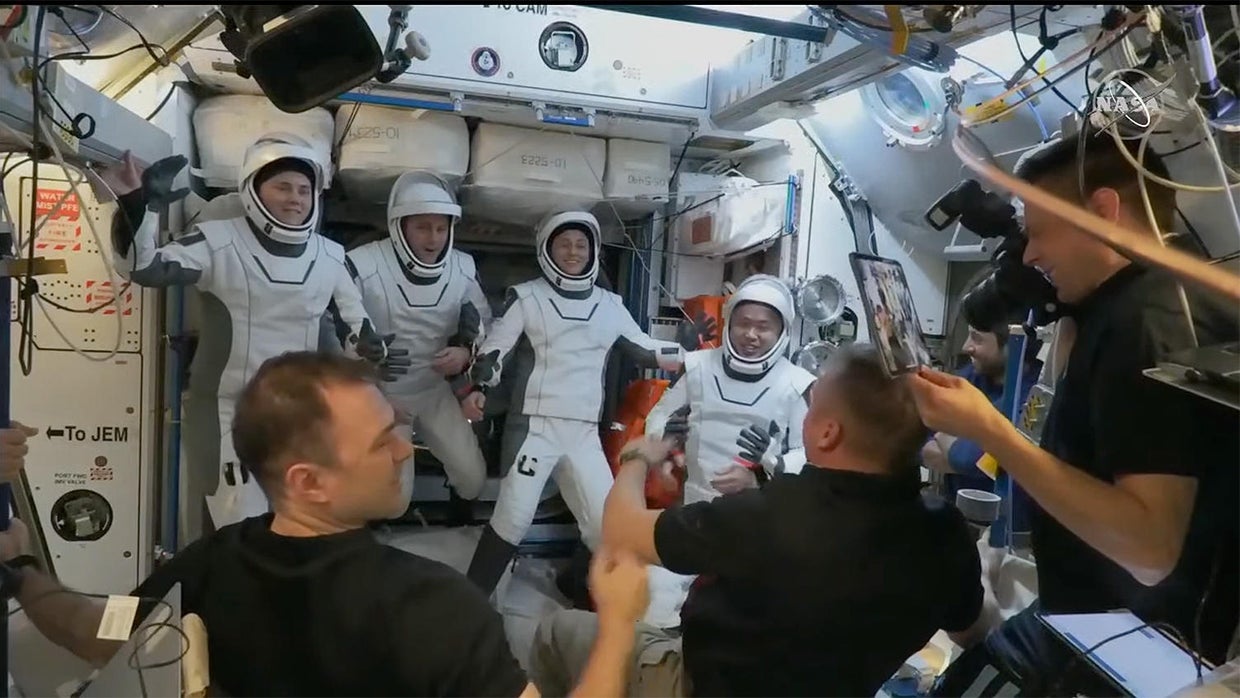 The Crew-5 astronauts, dressed in their SpaceX pressure suits, bid farewell to their space station crewmates before boarding the Crew Dragon spacecraft to return to Earth on Saturday night. From left to right: Astronaut Anna Kikina, Pilot Josh Kasada, Commander Nicole Mann and Japanese astronaut Koichi Wakata.
NASA
He added, "We just want to thank you, and we hope we've made you proud. If we don't, don't tell us until we get home!"
Commanders Nicole Mann and Kasada monitor the cockpit computer display, flanked by Koichi Wakata and astronaut Anna Kikina, as Crew-5 Dragon undocks from the International Space Station's forward port at 2:20 AM EST for a splashdown on a 19-hour flight to the Gulf of Mexico near Tampa.
Their Expedition 68 crewmates remained in orbit, consisting of Crew-6 commander Stephen Bowen, pilot Woody Hoburg, astronaut Andrey Fedyaev and UAE astronaut Sultan Alneyadi, Soyuz MS-22/23 crewmen Sergei Prokopiev, Dmitriy and Dmitri. NASA astronaut Frank Rubio.
Bowen and his Crew-6 colleagues arrived at the lab on March 3 to replace Mann, Kasada, Wakata, and Kikina. Prokopiev and his two Soyuz crewmates, launched last September, spent a full year on the station in the wake of a micrometeoroid impact that disabled their shuttle, launching a replacement spacecraft.
As Mann and his crewmates pulled back from the station, Rubio congratulated them on "a great sunset departure. You guys look great. Great job here, we're going to miss you. Godspeed."
Moments later, Mann, a Marine Corps colonel and former F/A-18 carrier pilot, thanked NASA and SpaceX for their support, saying, "I can't tell you how great it is to be a part of such an incredible team."
"And to the crew aboard the International Space Station, you've got it, make us proud, we'll follow you on your mission. And to our friends and family, it's been a privilege to add to the legacy of thank you for being a part of our mission." He closed with the Marine Corps motto: "Semper Fidelis."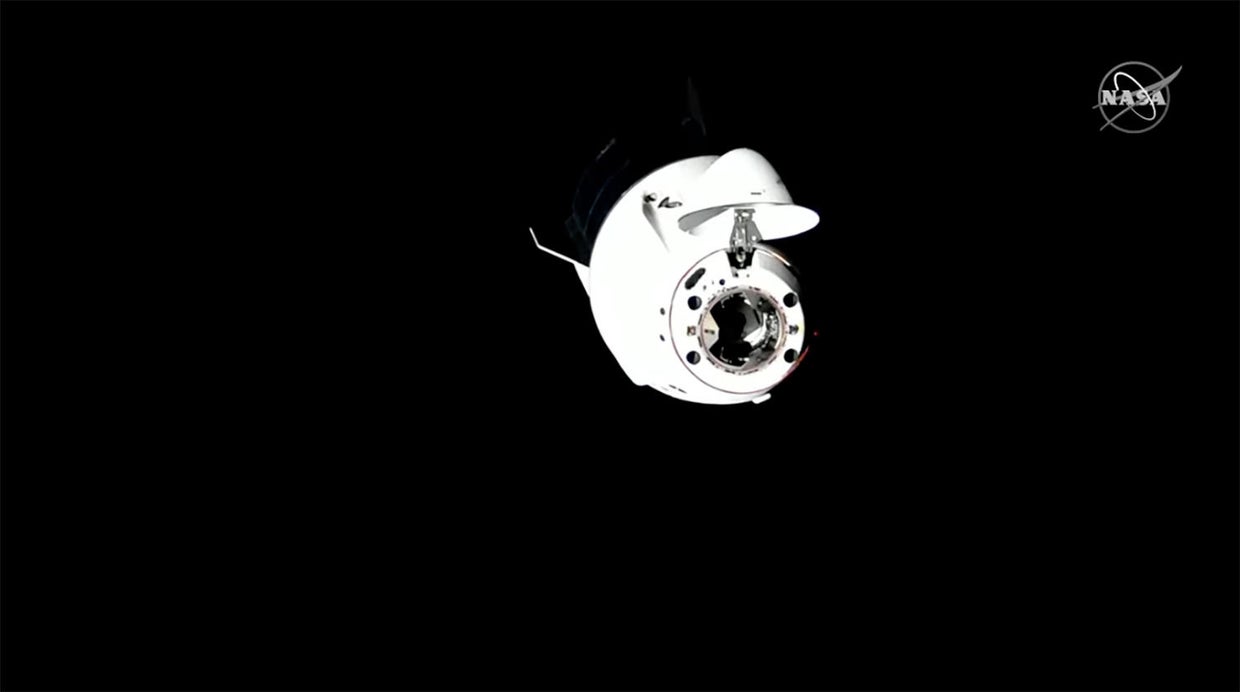 Crew-5 Dragon backs away from the International Space Station, all systems "go" for re-entry and splashdown in the Gulf of Mexico near Tampa, Florida after 9 pm EST.
NASA
Flying through space at 84 football fields per second – 17,100 miles per second – Crew Dragon's braking rockets were programmed to fire for 11 minutes and 21 seconds starting at 8:11 p.m. The "burn" was intended to propel the ship to 179 miles per hour. Slowing down, enough to drop the far side of the orbit into the lower atmosphere.
Twenty-eight minutes later, the Crew Dragon was expected to plunge back into the clear atmosphere, its heat shield enduring temperatures in excess of 3,000 degrees Fahrenheit as the ship rapidly decelerated in a fireball of atmospheric friction.
The capsule's main parachutes were expected to open for the last three and a half minutes of flight before splashdown at 9:02 p.m.
SpaceX crews stayed nearby to inspect and "safeguard" the spacecraft, and it was taken aboard a company recovery ship. Once on deck, the hatch would be opened and the crew would be helped out one by one and placed on stretchers to ease their recovery in gravity after more than five months of weightlessness.
From the recovery ship, they will be helicoptered ashore and then helped aboard a NASA jet to return to Houston's Johnson Space Center for a debriefing and reunion with family and friends.
During their 157-day mission, the Crew-5 flyers will spend 157 days and 10 hours off the planet, covering 2,512 orbits and 66.6 million miles since blastoff on Oct. 5.
More William Harwood