Hertz rewrote some of its policies to clarify to employees that Puerto Rico driver's licenses are a valid form of identification for car rentals, and that Puerto Ricans do not need to provide further proof of ID in the U.S. The move comes after Puerto Ricans were people Refusing to rent a car When Hertz employees wanted to see his passport instead of his license.
The incident occurred on May 10 at Louis Armstrong New Orleans International Airport when Humberto Marchand was denied a Hertz rental car after showing his Puerto Rico driver's license. The Hertz employee demanded to see Marchand's passport, which he did not carry because Puerto Ricans are US citizens, rendering a passport unnecessary for travel to the United States.
In response, Puerto Rico's congressional representative, Jennifer Gonzalez-Colon, wrote directly to Hertz CEO Stephen Sher last week that it was "unacceptable that, more than 100 years after receiving US citizenship, Puerto Ricans are still discriminated against and treated as second-class." -class American citizens."
González-Colón called on Sher "to consider implementing a company-wide educational campaign that adequately addresses the discrimination that many Puerto Ricans have experienced — with your business and others — to ensure it does not happen again."
BREAKING: @Hertz's CEO writes a letter to Puerto Rico's representative in Congress saying Hertz has rewritten its policy to make it abundantly clear that Puerto Rico is a US territory – not a foreign country – and therefore Puerto Rico driver's licenses do not… pic.twitter .com/Lh1Cjh0VAx
— David Begnaud (@DavidBegnaud) May 24, 2023
In a response to Gonzalez-Colon, Sher wrote that it is the company's policy that "a driver's license from Puerto Rico, in and of itself, is a valid form of identification to rent a vehicle in the United States and therefore is not treated differently. A driver from any state in the United States license."
"Since this incident occurred, we have taken multiple steps to ensure our teams are better trained in our identification policies," Scherr wrote. "This included rewriting a policy to be more clear about the status of Puerto Rico and other US territories, disseminating written and verbal communication from Hertz senior leadership to our field and call-center teams, and adding this topic to individual field huddles."
In addition to Marchand's problems with Hartz, a Kenner police officer who responded to the incident also told Marchand to leave. Marchand said that, as he was walking away, he heard the officer say that he was going to call "border authorities."
A Kenner Police Department police spokesman said comments on body camera video from the encounter were not heard. However, it is unclear when the officer turned off the body camera to respond to the incident.
Marchand has since filed a complaint and that officer is the subject of an internal investigation.
Hertz apologized to Marchand and reimbursed him for the car rental.
In a similar case last month, a family from Los Angeles to Puerto Rico Not allowed on Spirit Airlines flights Because their kid didn't have his passport, which he didn't need. That family paid for a more expensive flight on Jet Blue to get to Puerto Rico.
Spirit apologized to the family, refunded their flight and provided them with future travel vouchers, the airline said.
Read Gonzalez-Colon and Sher's letters in full below.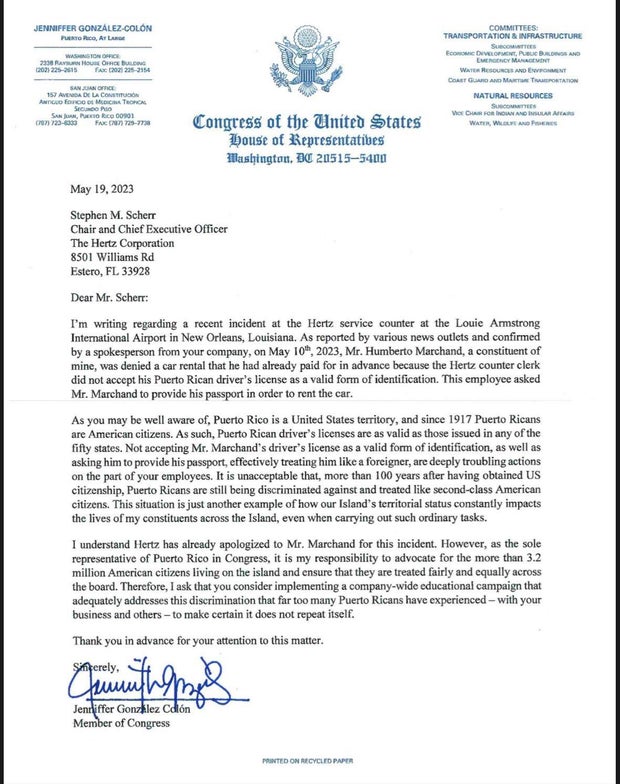 Letter from Jennifer Gonzalez-Colon to Herz CEO Stephen Sher.
CBS News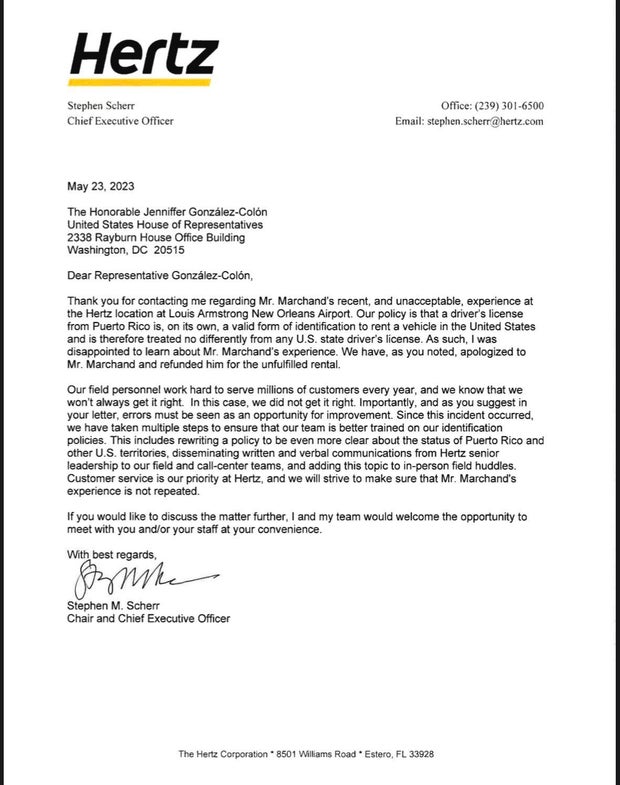 Rep. Hertz CEO Stephen Sher. Response from Jennifer Gonzalez-Colon
CBS News
— David Begnaud contributed reporting.
Trending news