Last week, Iran extended an official invitation to Saudi Arabia's King Salman to visit Tehran, one of many steps taken by the two countries recently as they slowly improve their relationship. The two countries have been bitter rivals for decades, but their relationship has begun to thaw Signed an agreement to re-establish diplomatic relations in Beijing last month. It is a diplomatic breakthrough in a stalemate that has shaped events and attitudes across the Middle East for more than 40 years.
The two countries cut diplomatic ties completely in 2016 after Sunni Muslim-ruled Saudi Arabia executed a prominent Shia Muslim cleric. Iran's ruling cleric and the majority of its population are Shia, and the two countries' hostilities have erupted into "proxy wars". including various countries in the region YemenWhere groups supported by both sides have caused massive loss of lives and created a dire humanitarian crisis.
There are many questions about how much progress Saudi Arabia and Iran will actually make in putting their long-standing grudges behind them, but given the wide influence of both countries in the Middle East and the wider Muslim world, this relationship could have a range of meaningful effects. of conflict and crisis.
Below is a look at how the China-brokered deal could impact the region.
Saudi turn to China
"There are two types of common medicine, American medicine and Chinese medicine," Saudi political analyst Salman Al-Ansari told CBS News. He said the Saudis have tried for four decades to convince the US government to stop "Iranian terrorism in the Middle East", but have not had the results they expected.
"So the kingdom (Saudi Arabia) decided to change its direction towards Chinese medicine," said Al-Ansari. "Will it succeed in preventing the 'cancer' of Iranian terrorism from spreading to the Middle East? Only time will tell."
He said, Saudi Arabia will see contract As an opportunity to assess Iran's commitment to peace.
Meanwhile, there is no doubt that this mediation took place China's image has improved As a global mediator and power broker on the world stage.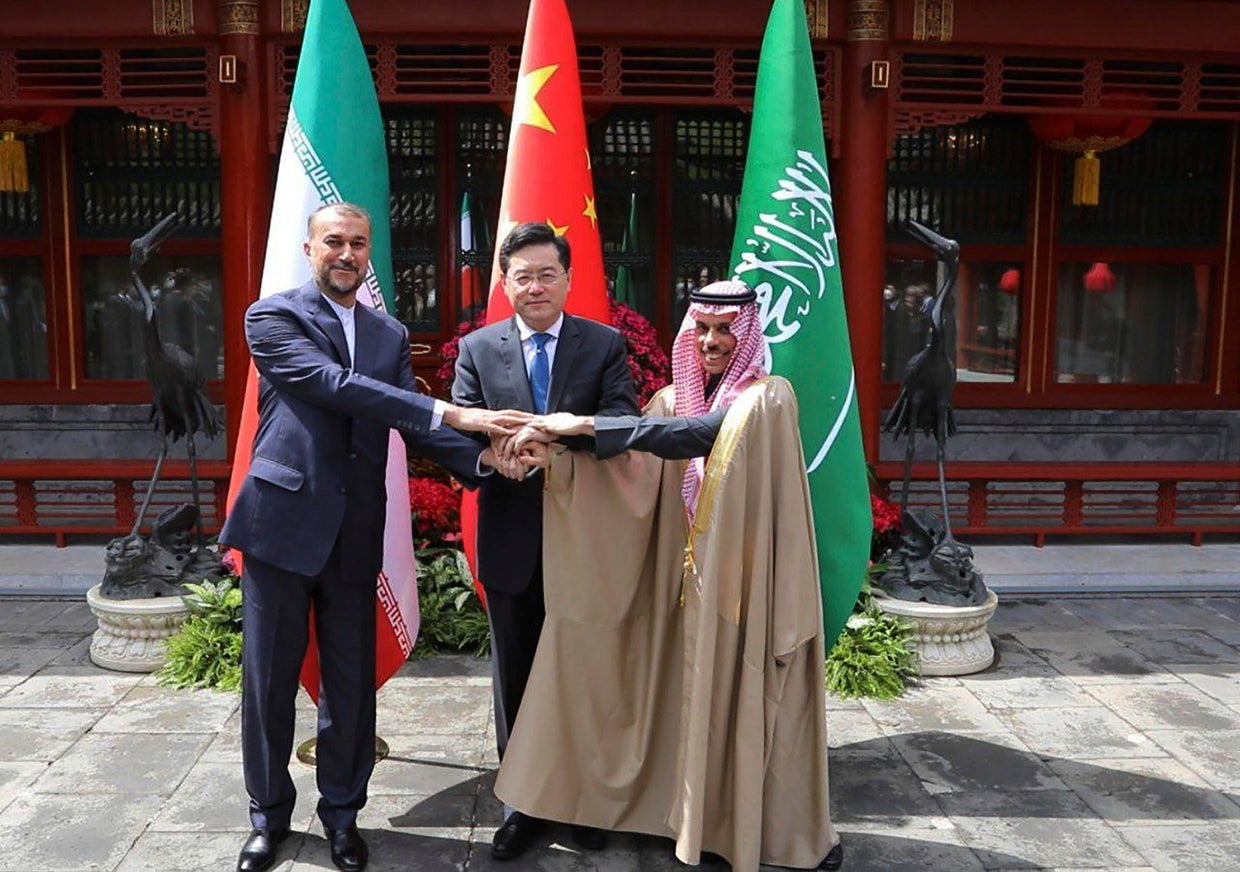 In this photo released by Iran's Foreign Ministry, Iranian Foreign Minister Hossein Amirabdollahian, left, shakes hands with his Saudi Arabian counterpart Prince Faisal bin Farhan Al Saud, right, and Chinese counterpart Qin Gang, in Beijing, April 6, 2023.
Iranian Foreign Ministry via AP
"China is the one and only country that has considerable influence over Iran," Al-Ansari said. "If Tehran doesn't keep its promises, the Iranian government will be cornered by China, its biggest ally. So either way, the deal is positive."
Iran's internal conflict
Iran's relationship with Saudi Arabia has been strained since the 1979 Islamic Revolution that brought Iran's hard-line clerical regime to power. Over the past year, that regime has faced an unprecedented challenge from within, as it waves Thousands of Iranians demand greater freedom in protests.
One expert believes that diplomacy between Tehran and Riyadh, even if it bears limited fruit for their bilateral relationship, could help Iran's ruling clerics put their restlessness behind them.
"The resumption of diplomatic relations between Iran and the Saudis strengthens the Islamic regime, which is currently struggling with internal instability, a completely collapsed economy and total isolation from the rest of the world," said Dr. Ardavan Khoshnoud, an Iranian foreign policy expert at two universities in Sweden. Teach, told CBS News. "But this does not mean that all barriers between the two countries will be removed. Absolutely not."
Iran International journalists continue to report despite government opposition
02:18
Khoshnud said the highly ideological nature of the two countries' conflict would make it very difficult to achieve meaningful reconciliation between the two sides.
"Barriers will continue to exist between countries, and we may witness covert malicious operations on both sides," he said.
Civil war in Yemen
Civil war in Yemen Always seen as a proxy war between Saudi Arabia and Iran. The Saudis lead a regional military coalition fighting Yemen's Houthi rebel movement, which is backed by Iran. New diplomacy between regional powers can be fragile, however Armistice that calmed the war Since last year, some believe a definite end to the war is near, and some fear it could get worse.
"It would be a mistake to assume that the Saudi-Iran deal will end the war in Yemen," Nadwa al-Dawsari, a non-resident senior fellow at the Project on Middle East Democracy, told CBS News. "Saudi's goal now is to extricate itself from the mess in Yemen that it contributed to."
Yemen's civil war continues as Al Qaeda strengthens its presence in the region
02:17
Al-Dawsari said that since Saudi Arabia has failed to restore Yemen's government and forcefully end the Houthi rebellion over the past nine years, it is not. Attack directly Because of its role in the war, the kingdom is likely to pressure Yemen to accept a deal with the Houthis to at least bring the crisis under control.
Al-Dawsari said it would effectively "give political recognition to the Houthis in exchange for assurances that they will stop Missile attack against Saudi Arabia and holds Yemen as a civil war."
This may help Saudi Arabia in the near term, but it will do little to help the Yemeni people endure. Brutal humanitarian crisis caused by war.
"The Houthis have been Stockpile weapons and redeploy their forces. They have not ended the war and this agreement is not supposed to change that," Al-Dawsari said. "Yemen has not yet entered the most intense phase of the conflict."
Israel and Saudi Arabia
Iran and Saudi Arabia have played an important role in shaping the political landscape of the Middle East, including Israel's relationship with its Arab neighbors – the relationship that Israel's leaders have. Wanted to improve In recent years.
Saudi Arabia and Israel share a common cause of opposition Iran's nuclear program And it has regional implications.
Dr. Meir Zavdenfer, a lecturer at Israel's Reichman University, told CBS News that Iran and the Saudis will now be able to manage their differences more smoothly, but it is unlikely to have a major impact on their deal. Efforts to normalize relations with Israel with Saudi Arabia.
He said, however, that Israel and the Saudis could cooperate more to counter Iran's influence in the region.
"I think the two countries (Israel and Saudi Arabia) will work together behind the scenes… monitoring what Iran is doing in the region," he said.
Lebanon crisis
An estimated 75% of Lebanon's population lives in poverty. The country is Close to financial meltdown and currently no presidentBecause its main political parties are unable to agree on the way to organize new national elections.
Lebanon's unique, incredibly complex political system has long been shaped by sectarian divisions, with the Iranian-backed Shiite group Hezbollah on one side and the Saudis backing Sunni politicians on the other.
The United Nations has called for action as Lebanon faces a growing economic crisis
06:12
So, could a thaw in Saudi-Iranian relations help end the stalemate and get Lebanon's government back to work, or even fill a presidential vacancy?
Not fast, analysts believe.
"This accord – still not exactly a deal – does not mean the end of competition, tension or even friction between the KSA (State of Saudi Arabia) and Iran, but aims to contain it," said Joseph Bahout, director of Issam Fares. Institute at the American University of Beirut told CBS News. "Until Iran and KSA address this issue openly and up front, all local parties in Lebanon will likely hold their positions and their respective candidates."
Interior Department of Iraq
Iraq has played a key role in facilitating nascent reconciliation between Iran and Saudi Arabia, with the country's capital, Baghdad, hosting five rounds of talks between Iranian and Saudi officials. These talks led directly to the signing of the agreement in Beijing on March 10, 2023, to restore diplomatic relations between the two countries.
Iraq had a vested interest in uniting the two longtime enemies: the decades-old sectarian rivalry between Iran and Saudi Arabia played out on Iraqi soil as much as anywhere else.
Iraq The conflict between Sunni and Shia Muslims has been going on for decades For political power in Baghdad, and Iran's leadership for a long time With Iraq's powerful Shiite factions wielding enormous influence. It was the divide at the heart of the post-US-invasion violence that plagued the country for two decades.
Analyzing the future of Iraq 20 years after the start of the US-led invasion
06:26
Iraqi analyst and deputy Middle East editor of New Lines magazine Rasha Al- said, "With no escalation between Saudi Arabia and Iran, it is hoped that the sectarianism of both countries, towards their minorities, will positively affect sectarian tensions in Iraq." Akidi told CBS News.
Al-Aqidi said another benefit of the Saudi-Iran deal for Iraq, albeit a symbolic one, is "the return of Iraq to the center of geopolitics — not as a headache, but as a problem solver. It gives Iraq great leverage. Regionally and internationally."
CBS News' Tucker Reals contributed to this article.
Iran: Crisis in the Middle East
more and more

Source link