In one of my favorite movies, "Almost Famous," fictional groupie Penny Lane opined that "It's all happening!" The rock band closest to her heart was finally making it big and she could not contain her glee. I felt that same sense of enthusiasm when The Ritz-Carlton Yacht Collection finally set sail on Oct. 15, 2022.
It's been a long time coming. The launch of the line was delayed for three years due to a variety of circumstances that included slowdowns at the shipyard, the pandemic and moving its first yacht to a new shipyard for completion. So it was a thrilling moment when its first ship, Evrima, welcomed guests in Barcelona on Saturday.
Way back in 2017, executives at The Ritz-Carlton announced the development of a line of brand-new yachts that would supposedly change the face of luxury cruising — at least for Marriott loyalists and anyone that prefers a small-ship experience.
Evrima is the first superyacht in the Ritz trio. Ilma and Luminara will join it in the future.
Luxury travel fans that love small-ship sailing with a focus on "greatest hits" cruise destinations, suite-style accommodations and Michelin-level dining want to know if The Ritz-Carlton is worth the wait. Read on for a guide to this brand-new cruise line.
For more cruise news, reviews and tips, sign up for TPG's cruise newsletter.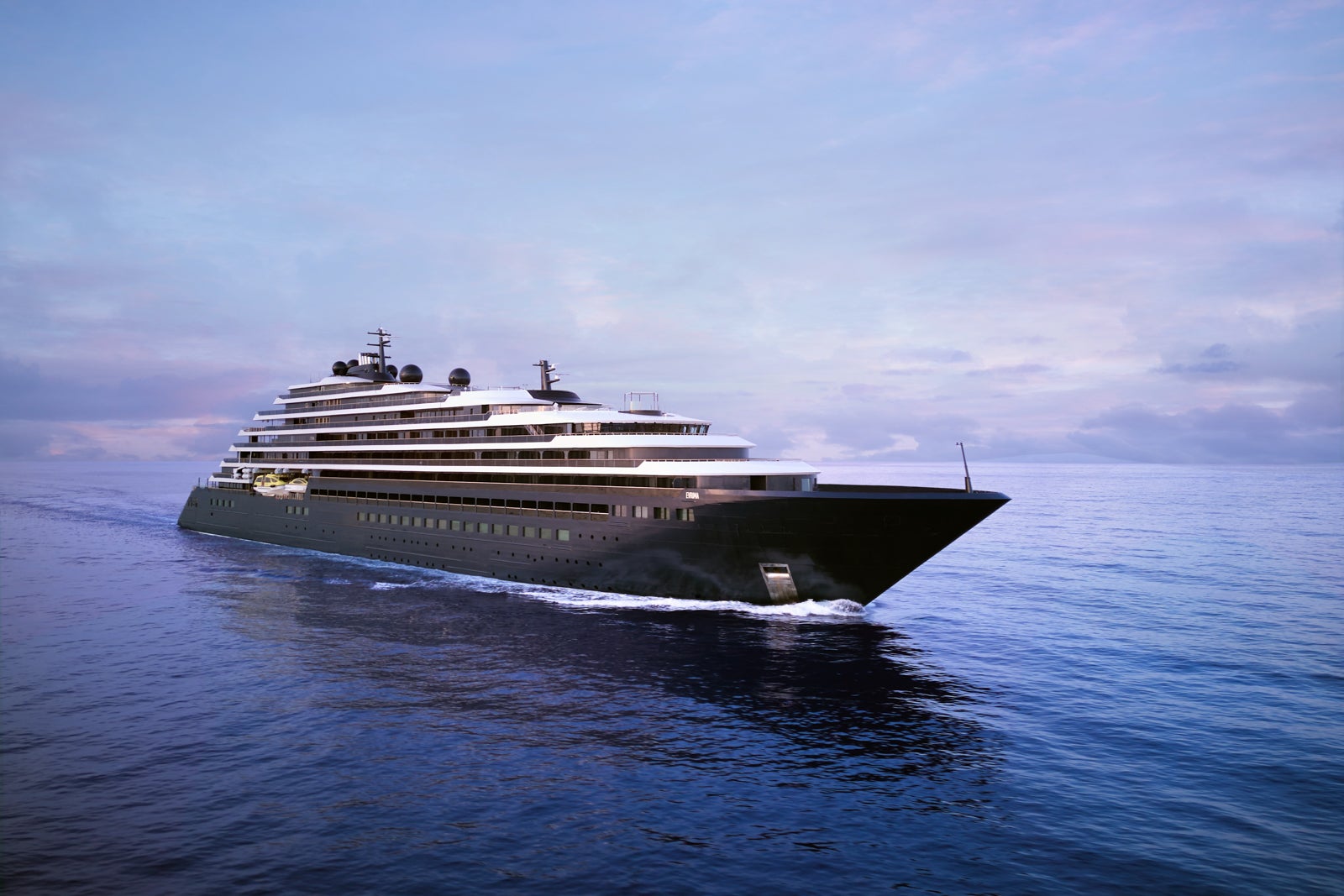 3 things TPG loves about The Ritz-Carlton Yacht Collection
The superyacht Evrima is intimate, accommodating 298 passengers.The aft Marina platform affords easy entry to the sea for swimming and nonmotorized water sports.An all-inclusive fare includes beverages, tips, all dining, Wi-Fi, a personal concierge and more.
What we could do without
We wish the tie-in with Marriott Bonvoy's loyalty program was a bit more advantageous for elites. You need to be Marriott Titanium or higher to receive complimentary priority boarding and departure benefits. We'd love to see the Marriott Bonvoy Brilliant™ American Express® Card add priority boarding as a benefit in the future.We'd also love to see some more unusual ports of call once the line hits its stride. For example, while Ritz's Athens (Piraeus), Greece round-trip itinerary with an overnight call on Ephesus (Kusadasi), Turkey plus Santoniri and Milos, Greece may entice new-to-cruisers, those who take several luxury cruises a year have probably already been to all of those ports of call — more than once or twice. (We know: first-world problems.)
The Ritz-Carlton Yacht Collection's fleet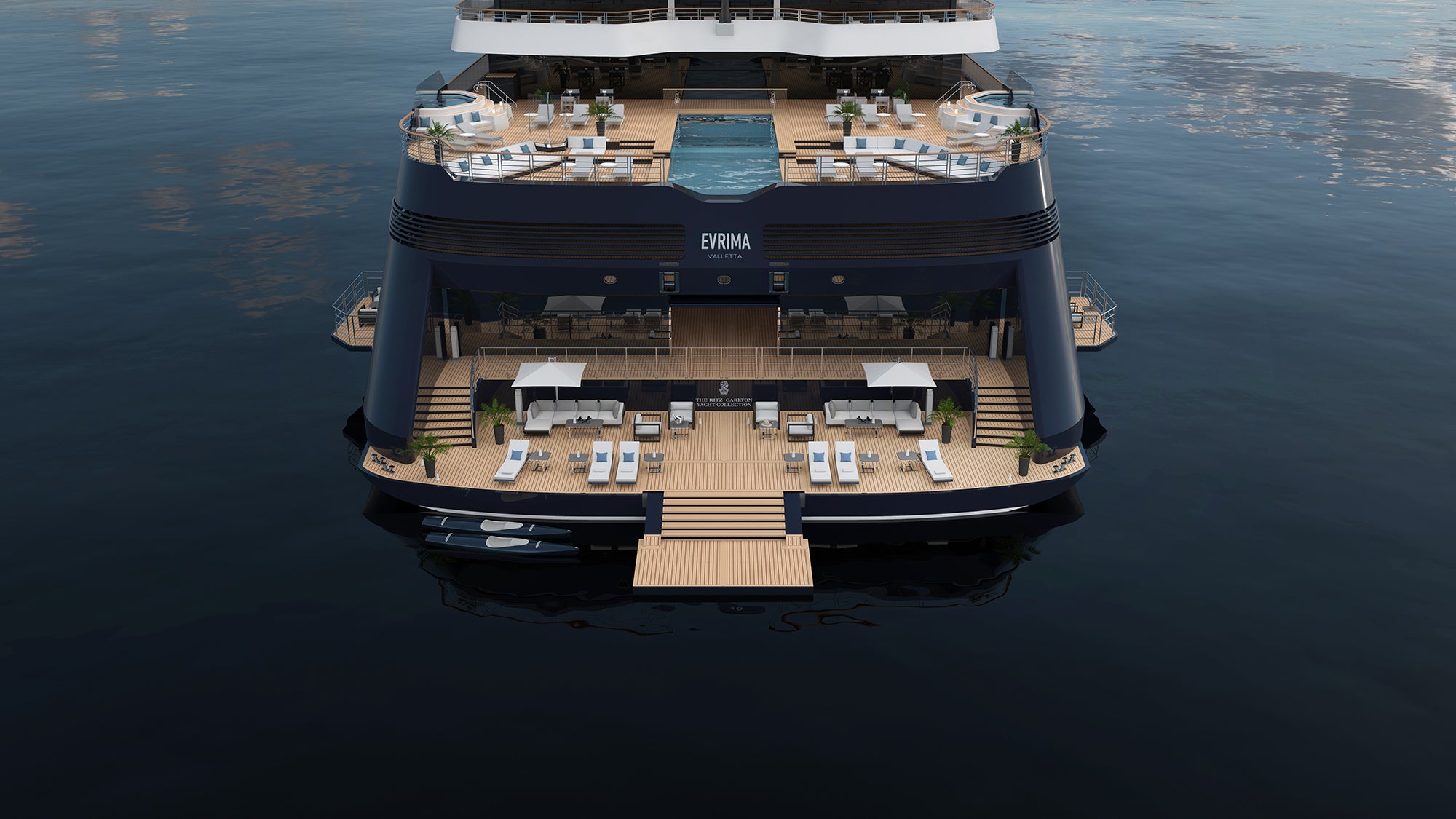 A rendering of Ritz-Carlton's Evrima. THE RITZ-CARLTON YACHT COLLECTION
At the inception of the cruise line, the company announced it would sail three identical yachts. While three yachts are still the plan — Ilma and Luminara are set to join Evrima in 2024 and 2025, respectively — the ships will not have the same design.
The line tapped Chantiers de l'Atlantique shipyard in St. Nazaire, France, to build ships two and three, and Ilma and Luminara will be much larger than Evrima. They'll be 171 feet longer than their sister ship and measure 46,750 gross register tons compared with Evrima's roughly 24,000 gross register tons. Like Evrima, the second and third ships will be all-suite ships, but they will feature 228 suites instead of 149. Additionally, the next-generation ships will have a higher percentage of larger suites than Evrima.
According to the cruise line, it has an eye toward sustainability. In regards to Ilma and Luminara, it says "each vessel will be fitted with four dual-fuel engines and utilize liquefied natural gas (LNG) as its main fuel source, significantly reducing emissions as compared to traditional practices. Additionally, the yachts will include advanced water treatment systems, an efficient heat recovery loop, LED lighting, and more, with the goal of minimizing environmental impact."
The Ritz-Carlton Yacht Collection has an option to order two additional yachts from the shipyard. It will be interesting to see if the line sticks to its three initial ships or expands to a five-ship fleet.
Destinations and itineraries
The Ritz-Carlton Yacht Collection has solved a problem I've had for a long time with the luxury cruise market: the length of the sailings offered. Often, luxury lines program incredible voyages of 14 or more nights. Sure, they sound wonderful and I'd love to go ahead and book them. But, my husband is a small business owner, and my job is busy too; it's hard for us to take two weeks or more of vacation at once. We prefer high-end vacations that are on the shorter side.
The Ritz yacht offers a nice mix of voyages that span four to 12 nights, making it much easier for working professionals to book them. But if you do have more time, The Ritz-Carlton Yacht Collection can also accommodate you with back-to-back sailings. That makes it a snap to customize a longer sailing.
Evrima began its sailing career in October 2022 with plans for a series of five European itineraries before it is set to reposition to the Caribbean, Costa Rica and the Bahamas for the winter.
The yacht's inaugural "warm weather" season offers five-, seven-, 10- and 12-night itineraries, including:
Bridgetown, Barbados round trips.Bridgetown, Barbados to Philipsburg, St. Martin (and reverse).Philipsburg to San Juan, Puerto Rico.San Juan round trip.San Juan to Bridgetown (and reverse).Bridgetown to Panama City, Panama.Panama City to San Jose (Puerto Caldera), Costa Rica.San Jose round trip.San Jose to Fort Lauderdale.Fort Lauderdale round trip.
If you love transatlantic sailings, check out Evrima's 13-night April 14 itinerary that departs San Juan and arrives in Lisbon, Portugal with calls on Hamilton, Bermuda; Horta and Ponta Delgada in The Azores; plus nine sea days.
The ship then tours the Mediterranean through October 2023.
You'll love this line if…
OK. You got us here. The line just started sailing and we haven't been on board just yet so we can't tell you exactly what you'll love about this line. But we can make some educated guesses based on The Ritz's track record, the marketing material we've seen so far and early reviews from other sailors.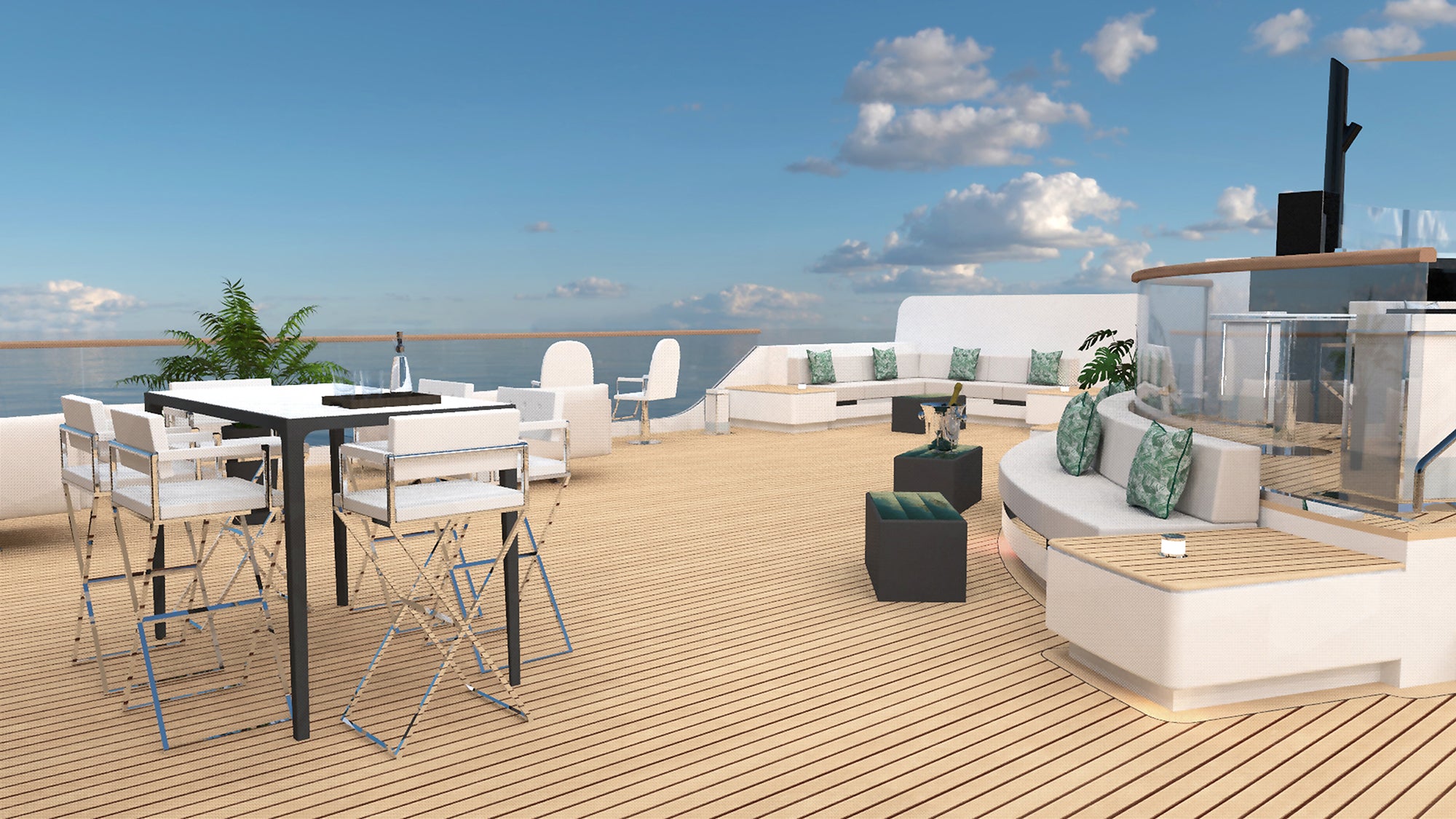 The Ritz-Carlton brand is all about exemplary service. We expect this drive to deliver an authentic, above-average experience to find its way onto the yachts. The Ritz offers luxury but it's never stuffy or stodgy. Instead, the line and yacht offer modern and elegant decor (nothing fussy), personalized service and Michelin-star quality dining.
One of the appealing things about The Ritz-Carlton Yacht Collection is its all-inclusive fares — something it will have in common with many luxury cruise lines.
The Ritz-Carlton Yacht Collection fares include:
ocean-view accommodations with a private balcony, which The Ritz calls a "terrace."a dedicated Personal Concierge.all dining at multiple restaurants as well as 24-hour in-suite room service.beverages (all nonalcoholic, bottled water, coffee and tea plus select wines and liquors) throughout the yacht and in your suite.onboard entertainment and enrichment.Wi-Fi.a marina-style platform with access to nonmotorized watersports while at anchor.onboard gratuities for housekeeping, dining and bar staff. (You will need to tip for salon and spa services.)
Cabins and suites
If you gravitate toward modern interior design with sleek surfaces, mixed textures and muted earth tones, you'll appreciate the suites aboard Evrima. (Each cabin type is referred to as a "suite" in The Ritz-Carlton yacht world even if it's not technically two or more rooms.)
The line tapped Tillberg Design of Sweden to envision its cabins. With a private yacht feel, akin to The Ritz-Carlton Residences in Florida's Sunny Isles Beach and Miami Beach, along with Los Angeles, the emphasis is on comfortable open-concept spaces and natural light.
Upon arrival at your suite, a chilled bottle of Moët et Chandon (Grande Marque Champagne, Brut Imperial, Non-Vintage, according to a publicist we spoke to) will greet you. Enjoy that out on your private balcony before getting to know the intricacies of your cabin. All suites offer a king-size bed with high-end Frette linens, digital flat-screen TV, a minibar stocked with your preferences (bottled water is Perrier) and an in-suite safe. Each suite has a Nespresso machine and a selection of complimentary specially roasted coffee and teas from Illy Cafè and Dammann Frères. If you want hypoallergenic pillows, those are available upon request.
The bathroom features a double vanity, luxury bath amenities, robes and slippers, a vanity mirror and a hair dryer.
You can order 24-hour room service. The All-Day Dining menu features influences from every dining venue on board and a Late-Night Dining menu will also be available.
Each suite is also assigned a personal concierge. According to Ritz-Carlton, this person "is your single onboard touchpoint to ensure a flawless, seamless journey from beginning to end."
Finally, the yacht also offers connecting and convertible suites for families and friends traveling together.
Let's take a look at what the suites look like:
Terrace Suites
Entry-level cabins are called Terrace Suites. Ninety cabins in this category are 300 square feet with a 67-square-foot balcony. Two Terrace Suites are ADA-compliant (adhering to standards set forth by the Americans with Disabilities Act).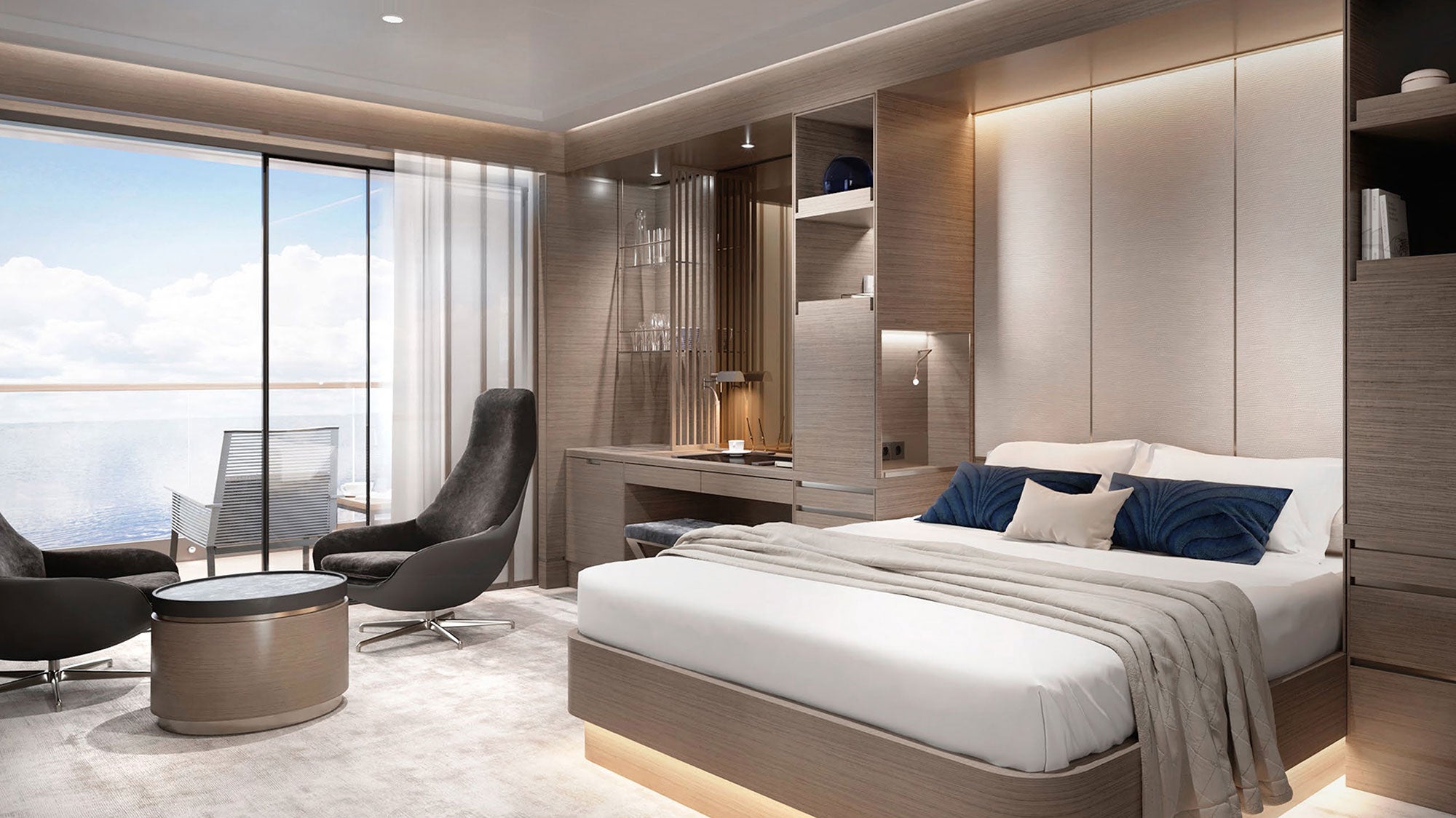 Terrace Suite. THE RITZ-CARLTON YACHT COLLECTION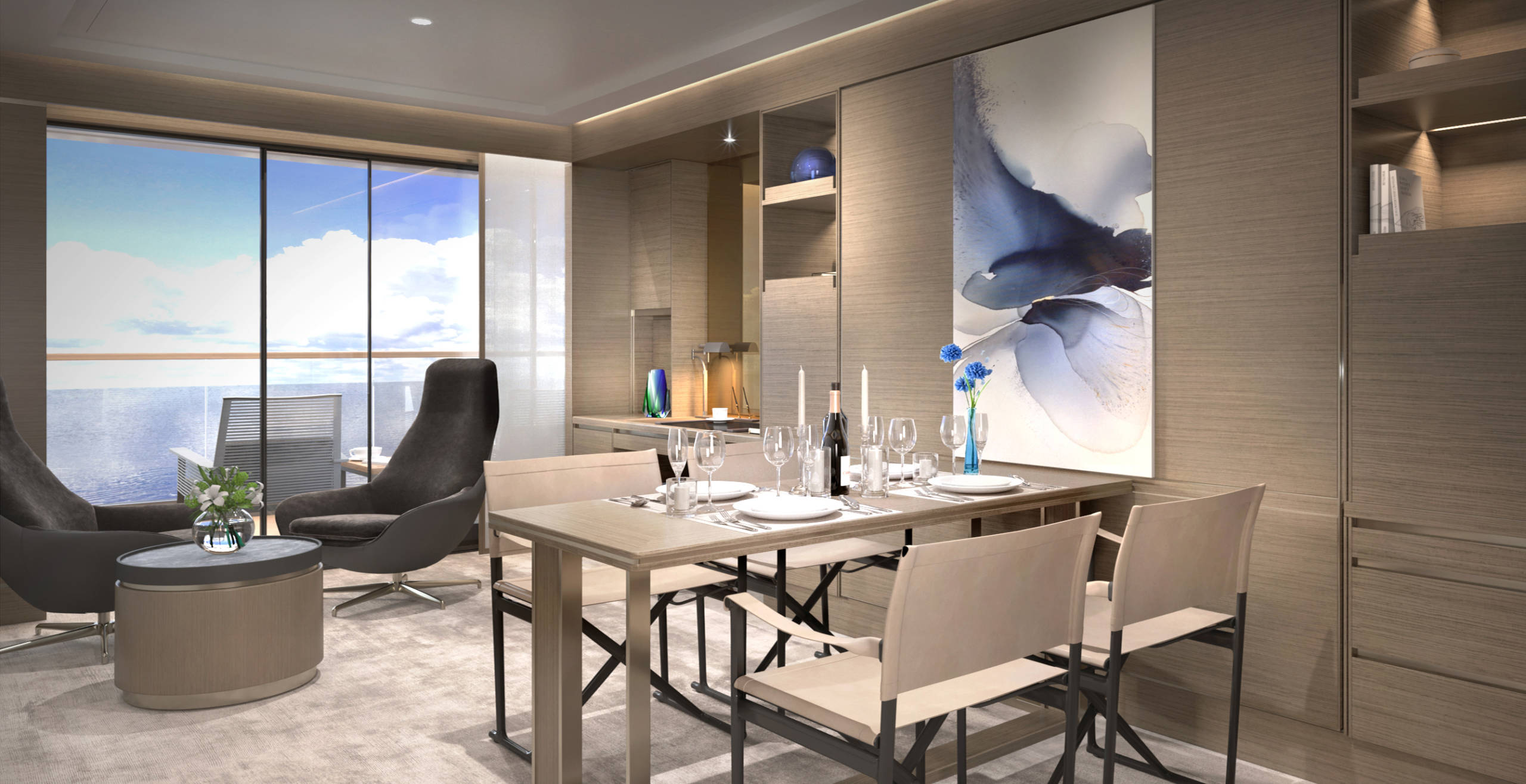 Signature Suites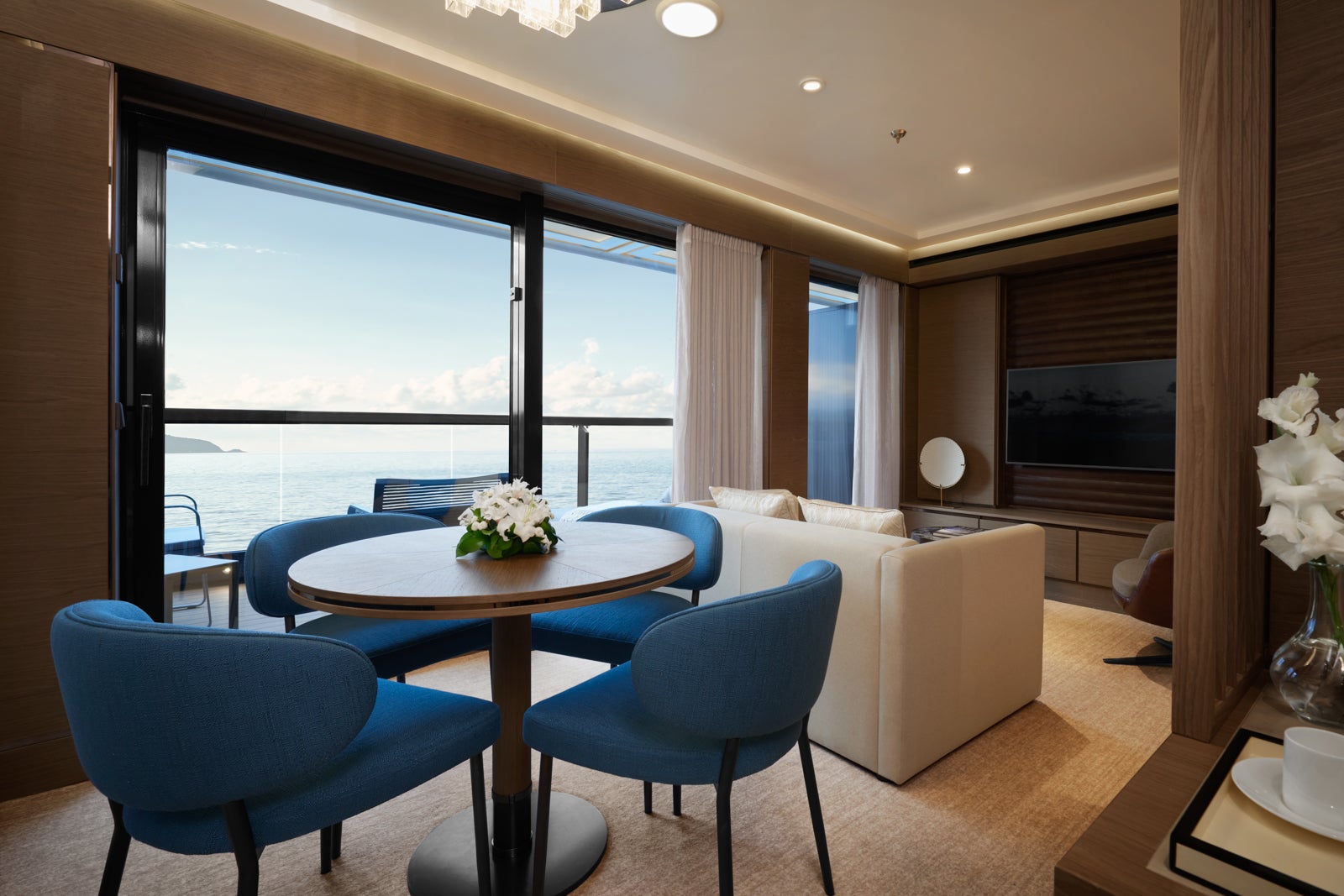 The Signature Suite's dining area. THE RITZ-CARLTON YACHT COLLECTION
The next cabin category covers more floor space at 429 square feet and accommodates a king bed plus a convertible sleeper sofa. The balcony is 101 square feet. There are 27 Signature Suites and one is ADA-compliant.
Grand Suites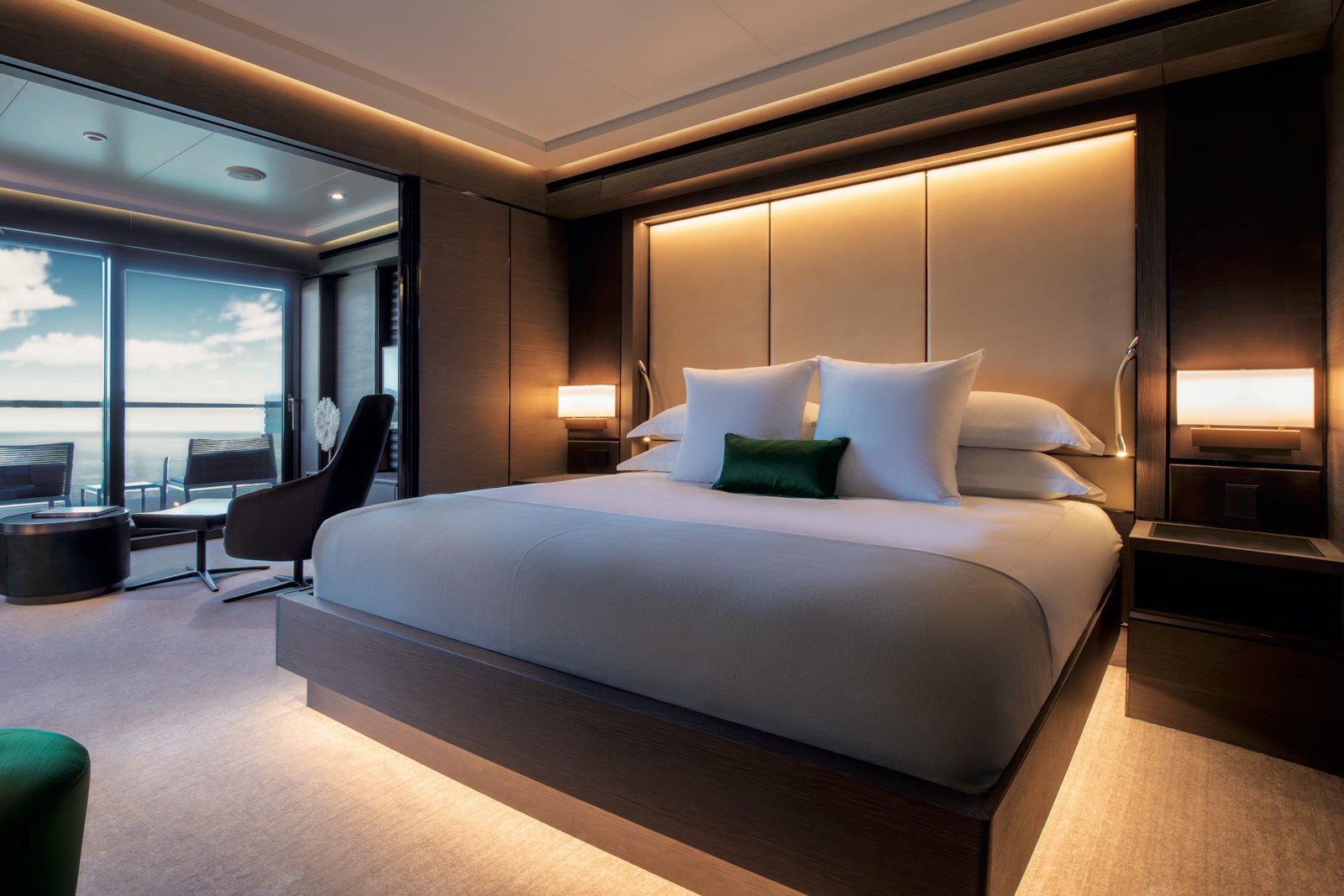 Grand Suite bedroom. THE RITZ-CARLTON YACHT COLLECTION
Are you the type that tends to overpack for a voyage? Then a Grand Suite — there are 14 of them on the ship — may be right for you since it offers dual walk-in closets. It also offers a king bed plus a convertible sleeper sofa. The suite interior is 587 square feet and the terrace is 108 square feet.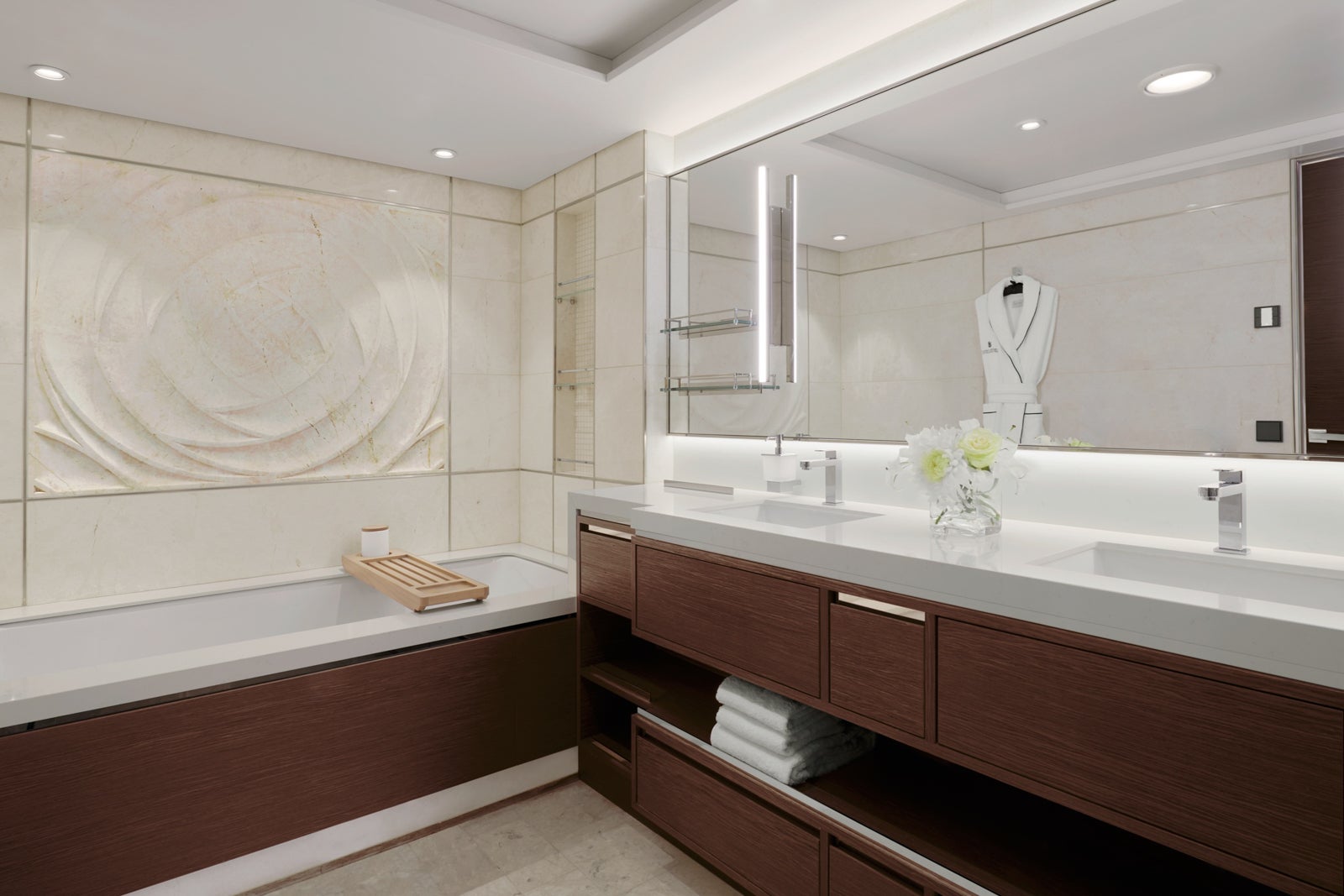 The Grand Suite bathroom. THE RITZ-CARLTON YACHT COLLECTION
2-Story Loft Suites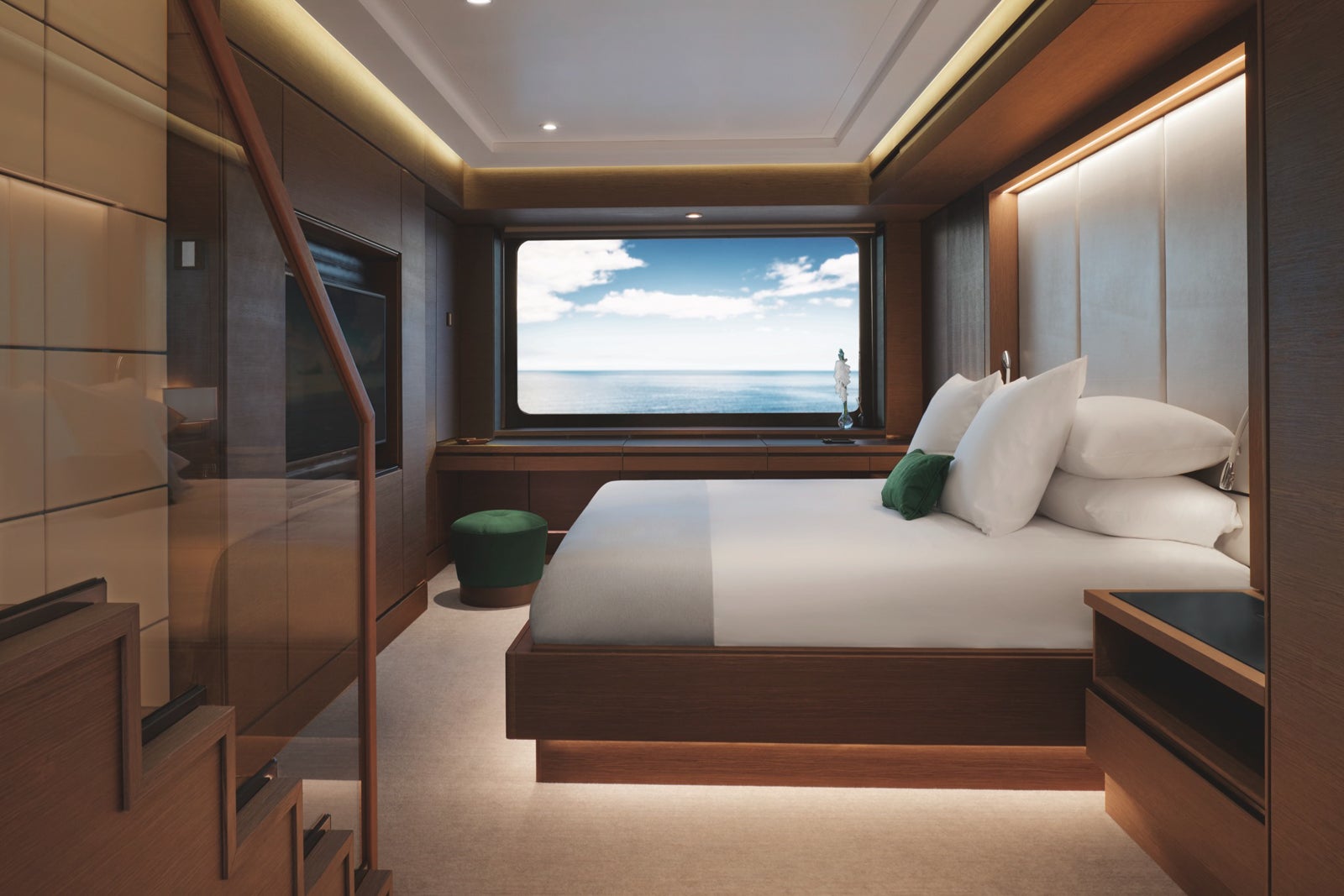 The Loft's bedroom. THE RITZ-CARLTON YACHT COLLECTION
The yacht's 611-square-foot, bi-level Loft Suites are interesting because they separate the living space (upstairs) from your sleeping quarters (downstairs). The plus is that you can enter the suite from hallways on both levels. The bathroom situation is also upgraded, with a double vanity master bathroom that includes a soaking tub and a separate shower (on the lower level) and a powder room on the upper level. Adding a bit of privacy, the convertible sleeper sofa in this stateroom is on the upper level that's otherwise devoted to living/dining space. The terrace is also on the upper level, at 76 square feet, and downstairs features a panoramic picture window for sea views. The yacht features 12 Loft Suites.
View Suites
At first blush on the deck plan, the four View Suites may seem similar to the Grand Suites. But, there's an important difference: floor-to-ceiling windows throughout that offer incredible views of the ocean and port. Suites 732 and 733 are 544 square feet with an 86-square-foot balcony while suites 734 and 735 are larger, at 574 square feet with a 97-square-foot balcony. This cabin category features a king bed and a convertible sleeper sofa.
Owner's Suites
The ship's two Owner's Suites, at 1,091 square feet, are larger than most Manhattan apartments. There are two nice things about this accommodation: a second full bath and a 592-square-foot balcony. The terrace is outfitted with upgrades such as outdoor furniture (a full sofa, two chairs, a coffee table, two loungers and two cocktail tables) and a dining table for four. The piece de resistance, however, is the private hot tub.
Inside, you'll find plenty of room to spread out with a dining table for six, a sitting area with four chairs and a table and a second sitting area with a loveseat, coffee table and two chairs. Beds includes a king bed and a convertible sleeper sofa. One more extra amenity is a pair of high-end binoculars for guest use.
Restaurants and dining
Even though the yachts will only host up to 298 passengers at full capacity, there are several distinct dining venues — including S.E.A, designed by chef Sven Elverfeld of Aqua, the three-Michelin-starred restaurant at The Ritz-Carlton, Wolfsburg in Germany.
All venues feature fresh, local ingredients while serving cuisine influenced by the destinations the yacht visits.
The Evrima Room
While Ritz yachts won't have main dining rooms the way you're used to seeing them aboard mega-ships — huge cavernous venues that pack everyone in tight during meal service — The Evrima Room is the ship's main restaurant. Here, you can dine as a couple or join other travelers in an intimate and relaxed setting. The restaurant is on Deck 4, aft, and the menu will change with the seasons.
Mistral
This is one of the most romantic spots on the ship. On Deck 8, aft, in front of the pool, this laidback venue was designed for a lunch under the sun or a romantic alfresco meal in the evening. The Mediterranean-style menu features the local catch, and you can order prime cuts of meat from the grill. You can enjoy drinks here, too, as you take in the beauty of the yacht.
Talaat Nam
Every ship needs a sushi bar, and you'll find one aboard Evrima on Deck 6 at Talaat Nam, which also offers a family-style table experience and outdoor dining with a view of the ship's wake. While we haven't yet seen the sushi menu, a passenger shared the dinner menu and it looks fantastic.
Starters include a Thai mango salad, chicken satay, Vietnamese-style spring rolls, hamachi, gyoza, beef tataki, red miso soup and edamame. Entrees are appealing and include beef rendang, chicken adobo, Thai prawn curry, Thai red curry, pancit noodles, ramen, chicken laksa and kimchee fried rice. Desserts include one of my favorite flavors: pandan. The leaves of this aromatic plant remind me of coconut and vanilla. That's presented in a custard delicacy. You can also order mango sticky rice or an almond sago avocado concoction with coconut ice cream.
The Pool House
When you want to enjoy a more relaxed meal, be it an early-risers breakfast, lunch or late-night nosh, The Pool House — on Deck 5 directly in front of the aft pool — will punch the ticket. Menu items are prepared a la minute in this open-air space.
Passengers on the first sailing reported a breakfast menu that ranged from challah French toast with berries and syrup to a garden frittata, lobster omelet with Hackleback caviar, breakfast tacos, bagels with lox, avocado toast and more. Coffee is by Illy and tea by Dammann Freres.
Lunchtime and afternoon "to share" items looked yummy, too: guacamole, fried calamari, blistered shishito peppers, sticky chicken wings, Peruvian ceviche, baked cauliflower and wild mushroom flatbread.
More substantial menu items included burgers, buttermilk fried chicken, lobster and shrimp rolls, beer-battered cod, steak sandwiches, roasted salmon BBQ baby back ribs and four interesting salads. Dessert is limited but includes ice cream, chocolate fudge brownies and creme brulee.
S.E.A.
If you're a fan of chef Sven Elverfeld of Aqua, his three Michelin-starred restaurant at The Ritz-Carlton, Wolfsburg, head to S.E.A., on Deck 6 where he's created a "specialty dining experience." In cruise lingo, that usually means it carries an extra surcharge and that is the case here. (We're reaching out to The Ritz to find out the exact cost, but a passenger reported it cost $625 for her and her boyfriend to dine there.) In terms of food, it's a "European tasting menu;" more details to come. Reservations are required.
The Living Room
Coffee drinkers and snackers need to memorize the location of The Living Room on Deck 4. It's a place to socialize or just sink into its comfy chairs to read a book from the library. Throughout the day and night, you can order freshly roasted coffees and espresso and pick up pastries and other treats.
The Marina Terrace
Just above the Marina, you'll find this spot that serves drinks and "light bites."
The Bar
You'll no doubt spend plenty of time at The Bar. Kick-start each night of your voyage with a special cocktail or Champagne toast and stop by for a nightcap after dinner. Looking for something decadent? This lounge serves premium Champagnes paired with caviar.
In-suite dining
There is an All-Day Dining menu that can be served in your suite or on your balcony 24/7.
Entertainment and activities
Life aboard any yacht is naturally a bit more laid-back than the vibe you'll find on mega-ships that offer dozens of bars, a comedy club, Broadway-style productions, karaoke, casino games and more.
Theaters and shows
While there is no theater on board the ship, there are opportunities to enjoy live music. Initial reports from passengers indicate that evenings are a bit on the quiet side so far.
The Observation Lounge
As twilight descends, passengers seek out The Observation Lounge on Deck 10. With incredible sea views, it's the place to get to know your fellow passengers over a drink at sunset followed by late-night dancing.
The Living Room
As mentioned above, The Living Room does double duty. It's a library and coffee house during the day, but it morphs into a piano bar and dance hall at night. Enjoy live music here in the evening hours. It's expected to be the go-to cocktail lounge on the ship.
Other interior attractions and activities
Despite the ship's intimate stature, it offers the amenities you'd expect of a luxury cruise ship. You'll find a spa, fitness center, cigar bar and boutique. Here are more details.
The Spa
Forward on Deck 9, The Spa — open from 9 a.m. to 7 p.m. daily — is quite well equipped for such a small ship. Here you'll find all manner of salon and beauty services as well as treatments ranging from deep muscle to hot stone massage.
The complete spa oasis includes a Relaxation Lounge and outdoor relaxation areas, including a hot tub all the way forward on that deck. There also are separate "Heat Experience" facilities — aroma steam rooms and dry saunas — for male and female passengers. They're in the changing areas. The spa provides lockers, robes, slippers, shower caps, towels and all the other accouterments you'd expect.
Treatment prices are similar to what you'd find on land. In the beauty salon, a shampoo and style starts at $80 for short hair, $90 for medium and $100 for long. A haircut and style are a bit more expensive, starting at $100 for short hair, $125 for medium and $140 for long hair. Hair straightening or curling (with no wash) is a bargain at $55. If you want a manicure, the 45-minute "Supreme" will set you back $95. For men, a beard trim starts at $35 while a shave starts at $75.
But it's the spa treatments most people get excited about. Aboard the yacht, there are several massage options, such as the 60-or 90-minute signature "Evrima" massage (starting at $255), where light to moderate pressure is paired with aromatherapy essential oils. Also available are deep muscle massages (starting at $205) and piedras calientes therapy treatments, which use warmed stones (starting at $275). After a day in port, you might want the hour-long black masque Leg Renewal Treatment ($130) that alleviates tired legs by reducing inflammation and encouraging enhanced circulation.
An array of facials are also available, including the 90-minute Ultimate Radiance and Renewal Facial ($320) that uses ESPA skincare-brand products.
If you plan to book several treatments, your best bet may be buying one of these packages:
PackageIncludesPriceThree-Day Discovery Program60-minute Evrima Signature Massage, 60-minute Bespoke Facial by ESPA and 50-minute private wellness session.Starting at $470.Five-Day Journey Program60-minute Evrima Signature Massage, Essence of the Earth Body Treatment, 60-minute Bespoke Facial by ESPA and two private 30-minute wellness sessions.Starting at $685.Six-Day Journey ProgramJourney welcome pack upon arrival, 60-minute Evrima Signature Massage, 60-minute Deep Tissue Massage, Nourished Glow Body Treatment, Ultimate Radiance & Renewal Facial and two private 30-minute wellness sessions.Starting at $1,050.
If you didn't prebook a treatment before boarding, your personal concierge can assist you on board; otherwise, call or visit The Spa. A receptionist will explain the options and make your arrangements.
The Gym
If you use Technogym equipment at home, you'll recognize the gear in the yacht's fitness center on Deck 9 near The Spa. You'll find treadmills, stationary bikes, ellipticals, free weights and more.
In addition to the exercise equipment, you can also sign up for personal training sessions (30 minutes starting at $75), private yoga sessions (an hour starts at $100) and fitness consultations (starting at $275). The Gym is open from 6 a.m. to 11 p.m. daily. Talk with The Spa to make reservations.
Guests can also take advantage of complimentary group exercise programs and presentations on such wellness topics as nutrition. Consult the onboard activity guide for more details.
Note that the gym can only be used by passengers who are 18 and older. Sixteen and 17-year-olds can use the facility when accompanied by a parent or legal guardian (or upon filling out an authorized consent form).
The Humidor
Most luxury ships have a cigar bar, and Evirma is no different. The Humidor on Deck 10 offers premium cognac paired with hand-rolled cigars.
The Boutique
While you won't find a veritable shopping mall aboard Evrima in the style of Royal Caribbean's Royal Promenade, you will find The Boutique on Deck 4. The line promises leading luxury labels and artwork from local craftspeople.
Deck-top attractions
On Evrima, the deck attractions focus on the great outdoors. The aft Marina will wow anyone that loves watching the waves and jumping into the water to enjoy snorkeling or paddleboarding. Here's what you can expect on the deck of the Ritz-Carlton yachts.
The Marina
While not on the top deck, The Marina is a standout feature of the yacht. It's on Deck 3 with direct access to the water. Here, you can borrow gear — like paddleboards, windsurf boards, kayaks, sailboats and snorkel equipment — for complimentary watersports. As with similar watersports platforms on other ships, the Marina will only open when weather conditions are right and local authorities permit its usage.
Even if you don't plan to get in the water, The Marina is an ideal spot to spend a sunny day. Multiple seating areas afford incredible views.
This deck is especially atmospheric at night with accent lighting that creates a beautiful blue glow.
Pools
Evrima has three pools. The main pool is on Deck 5, aft, near The Pool House restaurant.
A smaller pool is on Deck 8 near Mistral and the Ritz Kidz club.
A small, round pool — with a shade canopy — is located on Deck 9, forward, at The Spa Terrace.
Observation Terrace
The Observation Terrace is all the way forward on Deck 10, in front of the Observation Lounge. This is your perch for a bird's-eye view from the ship. Comfy seating areas abound where you can grab a drink and chat with newfound friends.
Children's programs
Where other cruise lines such as Viking and Virgin Voyages have barred children from their ships, Ritz-Carlton has no such limitations on its yachts. Children as young as 6 months can sail with the line.
The line purposely carved out space aboard each vessel for a Ritz-Kids club on Deck 8 aft. Children ages 4-12 are welcome to attend the programs in the club, which range from educational to arts and crafts. The program will be beefed up during the summer and holidays. There will be a nominal fee for each session.
While guests have access to Ritz-Kids, babysitting services are not offered.
A limited number of cribs are available upon request.
What to know before you go
Here are some big-picture details you should know before you cruise with The Ritz-Carlton Yacht Collection.
Dress codes
The line says it focuses on the "casual freedom of a yachting vacation," so you don't need to worry about packing formal wear. There are no formal nights on Ritz yachts. Passengers on the first sailing report that some gentlemen are wearing sportcoats in the evening while others aren't. Women are donning flowing palazzo pants and pretty blouses as well as cocktail dresses and sundresses.
Even so, when packing for your Ritz-Carlton Yacht Collection cruise, keep these two dress codes in mind:
Yacht Casual: At breakfast and lunch, shirts, shoes and bathing suit cover-ups are required unless you're at the pool. Then you can go barefoot and you don't need to cover up your swimsuit.
In the evening, put away the sleeveless T-shirts and bathing suits. Shirts and shoes are required throughout the yacht in the evening, even if you're sitting by the pool.
Yacht Sophisticated: If you plan to dine at chef Sven Elverfeld's specialty restaurant, collared shirts — though not required — are highly recommended.
Required documents
All passengers must bring aboard a passport that's valid at least six months after the voyage's disembarkation date. Visa requirements vary by destination, and it's up to you to determine what paperwork you need to sail. The line recommends that passengers coordinate visa requests with Pinnacle Travel Document Systems at 1-888-838-4867.
Gratuities
There is no need to tip the staff on The Ritz-Carlton Yacht Collection vessels. A service charge — except for spa treatments and salon appointments — is included in the cruise fare. Of course, feel free to tip any crew member that goes above and beyond during your voyage.
Wi-Fi
Wi-Fi is included in the cruise fare. Early reports indicate that it's stable and some have even taken Zoom calls from their suites.
Carry-on drinks policy
You can bring wine aboard the yacht. However, there will be a $20 corkage fee if you enjoy it in a dining room. You can't bring liquor aboard.
Smoking policy
There is only one place to go on the ship if you want to smoke (and that includes e-cigarettes): The Humidor on Deck 10. You can't smoke anywhere else — not even on an open deck. If the smell of smoke is detected in your suite, you will be tagged with a $1,000 cleaning fee.
Laundry
Pressing, laundry and dry-cleaning services are available upon request through in-suite services for an additional cost. A self-service Guest Launderette is located on Deck 9, where an iron, washer, dryer and detergent will be available at no additional cost.
Electrical outlets
Suites have both 230v and 120v outlets plus USB charging capabilities.
Currency
The U.S. dollar is the official currency of The Ritz-Carlton Yacht Collection. When you board, you'll put down a credit card to which all of your onboard purchases will be charged.
Drinking age
According to the line's ticket contract, "Guests must be at least 18 years old to be served wine and beer, and at least 21 years old to be served alcoholic beverages other than wine and beer. When docked or anchored in U.S. ports, or within the U.S. territorial sea, guests must be at least 21 years old to be served any alcoholic beverage."
The loyalty program
You can earn and burn Marriott points on Evrima sailings.
The good news first: Marriott Bonvoy members earn 5 points per $1 spent on cruise fares as well as hotel packages at participating Marriott hotels booked through The Ritz-Carlton Yacht Collection.
You'll also earn one elite night credit for each night you sail. Note that the passenger paying for the cruise will earn the points and elite night credits.
Now for the not-so-hot news: Redemption rates aren't terrific. Redeem 180,000 points for $1,000 off your cruise fare. You can then spend increments of 90,000 points to get an additional $500 off.
TPG values Marriott points at $0.84 each. That means we'd prefer to use 180,000 points for redemptions that would cost $1,512 or more in cash. The offer to use points on a sailing is below our preferred threshold.
However, sometimes RCYC will offer a more lucrative special promotion; for example, book select sailings and earn 75,000 bonus Marriott Bonvoy points in addition to what you'll earn per dollar paid on the cruise fare. Check the "Offers" tab of the line's website to check for deals like that.
If you are a Marriott elite, here's what you can expect onboard.
Elite member benefitSilver EliteGold ElitePlatinum EliteTitanium EliteAmbassador ElitePrivate invitation to Bonvoy receptionYes.Yes.Yes.Yes.Yes.Choice of in-suite welcome gift (varies by member tier)Yes.Yes.Yes.Yes.Complimentary first evening laundry pressingYes.Yes.Priority boarding and departureYes.Yes.Early access to S.E.A. dining reservationsYes.Complimentary laundry throughout the cruiseYes.
What it costs
As you may imagine, you can't book a yacht experience on a shoestring budget, but there are some good values to be had during The Ritz-Carlton Yacht Collection's first sailing season. For a luxury experience of this caliber, expect to pay about $700 to $900 per person per night for Caribbean sailings and from about $1,100-plus per person per night for Mediterranean itineraries.
Maybe this will change in the future, but the line's cruise fares aren't solo traveler-friendly. All suites carry a 200% single supplement (i.e., you will pay double the per-person rate based on double occupancy when you travel in a cabin alone).
Staterooms can accommodate third and fourth guests at a rate of 50% of the first and second berth rate. Those additional guests must be under 14. Note that a limited number of roll-away beds are available upon request.
You'll pay 25% of the first and second berth for infants and toddlers 6 months to 2 years old when reserved as the third berth in a suite. A parent or guardian who's 21 or older must accompany any child. Note that on voyages with three or more consecutive days at sea, the minimum age for children is one year. Children under the age of 5 cannot board the Zodiacs.
How to book
At TPG, we recommend that travelers always use a travel agent that specializes in cruise travel to book their cruises. Using a knowledgeable travel agent won't cost you a penny, and it can provide many advantages. First and foremost, travel agents understand the nuances of each cruise line and ship and can recommend the best options for you, from which stateroom to select to the perfect itinerary. Travel agents also often get access to special reduced cruise fares or perks that can add a lot of value to your sailing. If something goes wrong, you've got an ally that can work directly with the cruise line on your behalf for a resolution.
If you don't use a travel agent, you can book directly through The Ritz-Carlton Yacht Collection. Just give them a call or shoot them an email, and they will match you with an internal cruise adviser.
Or, you can book your voyage online. There are all sorts of online travel agents and discounters from which to choose.
You can even book a Ritz-Carlton yacht adventure through Delta's SkyMiles Cruises. For example, at press time, you can book a seven-night Central America voyage aboard Evrima for $5,400 per person. Bonuses include $1,000 in travel credits to get to/from the ship (that can be used on things such as an upgrade to first-class seats, a limo transfer and pier parking), and you can earn up to 10,000 SkyMiles.
No matter which method you use to book your voyage, maximize your credit card points when paying for the sailing by using a credit card that offers extra points for travel purchases. This could be the Chase Sapphire Reserve®, which offers 3 Chase Ultimate Rewards points per dollar spent on travel and dining (excluding the annual $300 travel credit). There's also the Chase Sapphire Preferred® Card, which brings 2 Ultimate Rewards points per dollar on travel and 3 Ultimate Rewards points per dollar on dining.
And, of course, you may want to use the Marriott Bonvoy Brilliant™ American Express® Card, Marriott Bonvoy Boundless Credit Card or Marriott Bonvoy Bold Credit Card.
Bottom line
Pairing The Ritz's long history in the luxury hospitality market with small-ship cruising is a big win for cruisers. The line's participation in the Marriott Bonvoy loyalty program further sets it apart from other lines that don't have a points partner in the hotel space. While the redemption rate isn't amazing, we still call it a win to be able to book a cruise with points.